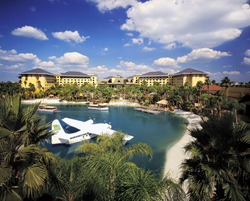 Orlando, FL (PRWEB) June 28, 2017
Rising Media, Inc., a global events producer specializing in business and technology-related conferences and exhibitions; the International Institute of Business Analysis (IIBA), a community of over 29,000 of the world's leading Business Analysts; and Business Rule Solutions, a leading consultancy, revealed over 130 sessions and 36 tutorials confirmed for the upcoming Building Business Capability (BBC) at Loews Royal Pacific Resort in Orlando, Florida, from November 6-10, 2017.
This year's conference program explores the theme of "Transformation: Your New Business Reality," and features 130+ sessions over 13 conference themes, including:

The Business Hot Seat
Designing the Adaptable Business
All About the Customer Experience
Transforming the Business
Strategy Formulation
The Evolving Analysis and Design Landscape
High-Impact Techniques
Aligning Project Management
Spotlight on Leadership Skills
Getting Ahead
Organizational Business Analysis Capability
Leveraging Technology
Fast Forward
Over 1500 professionals including Business Architects, Business Analysts, Business Decision Managers, Agile practitioners, Business Process professionals, and Business Rules experts will attend the event, which, in addition to the conference program, features 36 pre-conference tutorials to provide in-depth learning and actionable takeaways; a keynote from industry thought-leader Randy Pennington, Founder/Author, Pennington Performance Group, titled, "Make Change Work®: Stay Nimble, Relevant & Engaged in a World of Disruption," professional "jams," a vendor expo, and special events which aim to create robust opportunities for knowledge exchange and up-to-date training, as well as extensive connection-building and networking opportunities amongst experts and professionals.
Also featured on the agenda are six Spotlight Sessions that will take place Wednesday, November 8 through Friday, November 10 and include a four-part feature spotlight presented by IIBA® highlighting NEXTGEN BUSINESS ANALYSIS – THE FUTURE IS NOW thought-leader topics:

The Game Changer: It's Time to Think, Learn & Work DIFFERENTLY with Bob Prentiss, Bob the BA
Back to the Future – Business Analysis in 2020 and Beyond! with Joy Beatty, Seilevel
AI & The Future Workforce – What Will the Future Enterprise Demand for their Workforce? with Andy Chen, Catronic Enterprise
NextGen Business Competencies: Keys to Being Ready for the Future with Kupe Kupersmith, KupeTalks
The additional two Spotlight Sessions are: "Business Knowledge Engineering" with Ronald G. Ross, Business Rule Solutions, LLC & BRCommunity.com and "From Business Architecture to Operational Results" with Roger Burlton, Process Renewal Group & BPTrends Associates.
To view the complete Building Business Capability 2017 agenda and to register, visit buildingbusinesscapability.com.
25+ sponsors and exhibitors are already confirmed to showcase cutting-edge technology and services in the BBC 2017 exhibit hall, including:
Official Association Sponsor: International Institute of Business Analysis™ (IIBA®)
Gold Sponsors: Business Rule Solutions, Capsifi, iGrafx, RuleArts, and Signavio
Silver Sponsors: International Institute for Learning, Inc. (IIL) and QualiWare
Bronze Sponsors: B2T Training, Bob the BA, Justinmind, Modern Requirements, OpenRules, Inc., Prolaborate, RMC Learning Solutions, SAMY, Seilevel, Sparx Systems, TopTeam Analyst, and Watermark Learning
Showcase Sponsors: APQC, Orion Development Group, and Rulesmatrix
Tabletop Sponsors: IRIS Business Architect and Tristotech
Bookstore Sponsor: RMC Project Management Bookstore
Companies interested in becoming a sponsor should visit http://www.buildingbusinesscapability.com/sponsorship.
About Rising Media
Rising Media is a global events and media producer excelling in Internet and technology-related events and content. Events include Inside 3D Printing, RoboUniverse, Virtual Reality Summit, Data Driven Business, Building Business Capability, Predictive Analytics World, Text Analytics World, eMetrics Summit, Digital Growth Unleashed, AllFacebook Marketing Conference, All Influencer Marketing Conference, Search Marketing Expo, Affiliate Management Days, Influencer Marketing Days, Future of Immersive Leisure, Global Online Classifieds Summit, and Web Effectiveness Conference in the USA, United Kingdom, Germany, France, Italy, India, China, Korea, Singapore, Australia, Brazil.
For more information, please visit http://www.risingmedia.com.
About IIBA
International Institute of Business Analysis™ (IIBA®) is a professional association dedicated to helping the business analysis community achieve better business outcomes. Through a global network, IIBA® connects more than 29,000 Members and more than 300 Corporate Members and 121 Chapters. As the voice of the business analysis community, IIBA maintains international standards of practice, certifications, professional development and networking opportunities through a community of BA professionals, organizations and strategic alliances. For more information visit http://www.iiba.org.
About Business Rule Solutions
BRS is a consulting firm that helps leaders in industry and government design smart, adaptable operations by guiding them in engineering rule-based business solutions. For more information, please visit http://www.brsolutions.com.