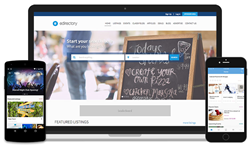 "The webinars have been a real boon for our platform and international community of clients. With the webinar program, we are able to conduct interviews with the people that matter most" - Marco Bizzarri, Executive Account Manager at eDirectory.com
Annandale, Virginia (PRWEB) June 29, 2017
The eDirectory marketing team has revived its Webinar Wednesdays as a part of a larger mission to become the best online directory software on the planet. By bringing its clients and enthusiasts closer to home with open question and answer sessions, there's no doubt clients will have the opportunity to learn all the essentials of this powerful directory software at eDirectory.
A new webinar schedule was just published with various topics to allow clients and those interested in launching a directory website to take part in an immersive webinar experience to educate and advise on how this powerful directory software works. Those looking to participate can view the various topics and register in just a few clicks here.
With so many different topics to choose from, the webinar schedule is designed to give every participant a chance to choose the one that works best for them. eDirectory is very good about taking live, actionable feedback and putting it back into the product marketing. All of the current webinar topics we provided by webinar participants.
"The webinars have been a real boon for our platform and international community of clients. With the webinar program, and especially the live question and answer forum aspect of it, we are able to conduct interviews with the people that matter most to eDirectory." -Marco Bizzarri, Executive Account Manager at eDirectory.
Since re-launching Webinar Wednesdays, eDirectory has already made valuable improvements to the platform and ramped up its next cycle on the development roadmap.
The next directory software webinar on the schedule is designed to help those just getting started with their directory websites and is titled "A Community Forum for Beginners" and will be held on July 12th at 1pm EST. The webinars are free for everybody to attend however spaces do fill up quickly, so it is advised to register sooner than later. A highly recommend webinar event for both amateur and seasoned directory website owners would be the "Marketing Essentials for Directory Websites" where key topics like landing pages, Google tools, social media, and overall best practices will be covered.
If you'd like to have a private screenshare demonstration with an assigned account executive to see if eDirectory.com is the right solution for your project, you can get started by requesting a DEMO.
eDirectory.com, industry leader in online directory website software, is blazing a new path to power the most comprehensive and efficient solution out there. Founded in 2003, eDirectory has been launching directory websites all over the world and continues to dominate its market. Learn more at eDirectory or call 1-800-630-4694