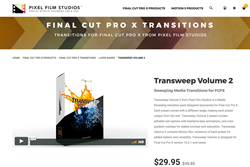 This is a brand new FCPX Transition pack that contains 30 different presets and can be edited to create the editors' vision.
Aliso Viejo, CA (PRWEB) June 28, 2017
Transweep Volume 2 from Pixel Film Studios is a Media Revealing transition pack designed exclusively for Final Cut Pro X. Each preset comes with a different angle, making each preset unique from the rest. Transweep Volume 2 presets contain editable text options with keyframe-less animations, and color gradient overlays for added contrast and saturation. Transweep Volume 2 contains Motion Blur variations of each preset for added realism and versatility. Transweep Volume 2 is designed for Final Cut Pro X version 10.3.1 and newer.
Transweep Volume 2 contains over 30 different transition preset styles for the user to select. Each preset contains a non-motion blur preset for faster render times, and an added motion-blur preset for enhanced realism. Transweep Volume 2 presets contains editable text, allowing the user to insert phrases and messages between clips.
Each Transweep Volume 2 preset contains controls for slight movement. These movement controls allow the user to apply a parallax between media clips for more interesting looks. Each media panel can be scaled up or down, allowing the user to display the media at a larger or smaller scale, for unique zoom styles.
Established in 2006, Aliso Viejo, California-based Pixel Film Studios is an innovative developer of visual effects tools for the post-production and broadcast community. Their products are integrated with popular non-linear editing and compositing products from Apple FCPX. Apple, the Apple logo, Mac OS X, and Macintosh are registered trademarks of Apple Inc. in the U.S. and/or other countries. All other trademarks and trade names are the property of their respective owners.