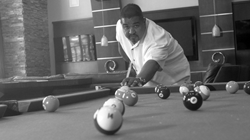 Hollywood ,Ca (PRWEB) June 29, 2017
A full-out bidding war has begun among Hollywood studios interested in the rights to the story of Miguel Pereira, the bail bondsman who represented O J Simpson during his legal difficulties in Las Vegas, Nevada. Mr Simpson gained fame on the football field, winning the Heisman Trophy in 1968 for his performance with the USC Trojans. He then went on to even greater success in the NFL with the Buffalo Bills and the San Francisco 49ers. O J Simpson was also an actor who appeared in numerous films prior to his legal difficulties.
A Legacy in Ruins
O J Simpson was accused of two counts of murder in the stabbings of his ex-wife, Nicole Brown Simpson and her friend, Ron Goldman. He was found not guilty on October 3, 1995, in one of the most controversial verdicts in legal history. Mr Simpson was also charged with robbery and criminal conspiracy for a robbery that took place at the Palace Station hotel and casino in Las Vegas. It was alleged that he took items of sports memorabilia at gunpoint. Simpson alleged that these items had been stolen from him and denied that he or anyone in his group was in possession of a gun at the time of the alleged robbery.
Bonding with the Bail Bondsman
As the bail bondsman for O J Simpson throughout the Las Vegas court proceedings, Miguel Pereira was in a unique position to interact with the disgraced athlete and to discuss his case and other matters with him. Oj was sent back to jail because he violated terms of his bail. During the entire trial, Simpson resided with Pereira at the bail bondsman's home because no hotel in the Las Vegas area would provide Mr Simpson with lodging. Pereira accumulated more than 30 hours of recordings and numerous documents related to the case and other events that occurred during this period.beginning fro the time when he picked OJ up in Florida at his home to bring him back to justice in Las Vegas. This content is raw, uncut and of great interest to the viewing public.
The Right Venue for the Story
Miguel Pereira is managed by Kevin Watson, a longtime professional in the branding and broadcast industry. Kevin Watson is currently accepting bids for the documentation and the rights to Pereira's story, which is expected to sell for millions of dollars at the conclusion of the process. Watson recently arranged for Pereira to appear on an upcoming A&E program that will showcase a small portion of the information Pereira collected during his direct communications and interactions with O J. This is expected to reach millions of potential viewers and to whet their interest in the story Pereira has to relate.
The anticipated bidding war among Hollywood studios is expected to add up to millions of dollars for this sought-after original authenticated story. For more information on how to participate in this process, contact Kevin Watson directly. Offers are still being accepted, and a decision on the rights to this story will be made later this year.