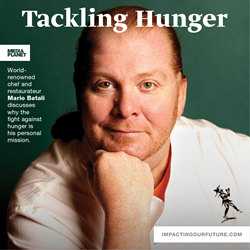 Around 42 million Americans live in food insecure households.
New York, NY (PRWEB) June 28, 2017
Today Mediaplanet announces the launch of this June's edition of "Tackling Hunger." This campaign will educate readers on the intricacies of hunger both domestic and international. This initiative features a broad range of issues from senior hunger to sustainable farming practices to provide a comprehensive look at this important problem.
Around 42 million Americans live in food insecure households. This is a particularly troubling number when you take into consideration that between 30 and 40 percent of food grown in the United States goes to waste. This campaign highlights the fact that the problem, especially locally, is not a lack of food, but rather a lack of access.
Celebrity Chef Mario Batali stars on the cover of the print publication. In the issue, Batali discusses his involvement in hunger relief initiatives and why the cause is so close to his heart. "It's clear that hunger relief is well within our reach," says Batali. "I can't just sit back and wait — I need to join in and make things happen." Almost 10 years ago Batali founded the Mario Batali Foundation to help impoverished children and their families. "With social media and easy access to content, we've been able to put a face and a name to the cause," he says. "It's helped people to get involved on a grassroots level so they can champion the cause in any way they can."
The print component of "Tackling Hunger" is distributed within today's edition of USA Today in the New York, Washington D.C./Baltimore, Seattle, Boston, Atlanta, and San Francisco markets with a circulation of approximately 250,000 copies and an estimated readership of 750,000. The digital component is distributed nationally, through a vast social media strategy, and across a network of top news sites and partner outlets. To explore the digital version of the campaign, click here.
This campaign was made possible with the support of Feeding America, Mario Batali, World Food Program USA, UNICEF USA, CropLife America, Islamic Relief USA, the Root Cause Coalition, BJ's Wholesale Club, Pampered Chef, Wells of Life, Generosity Water, the AARP Foundation, Children's Hunger Fund, Lifewater International, the International Food Policy Research Institute, Grameen Foundation, The International Association of Students in Agricultural and Related Sciences, Center for Strategic and International Studies, and Hunger Task Force.
About Mediaplanet 
Mediaplanet specializes in the creation of content marketing campaigns covering a variety of industries. We tell meaningful stories that educate our audience and position our clients as solution providers. Our unique ability to pair the right leaders with the right readers, through the right platforms, has made Mediaplanet a global content marketing powerhouse. Our award-winning stories have won the hearts of countless readers while serving as a valuable platform for brands and their missions. Just call us storytellers with a purpose. Please visit http://www.mediaplanet.com for more on who we are and what we do.
Press Contact:
Vanessa Rodriguez
vanessa.rodriguez(at)mediaplanet.com
(646) 979-2833