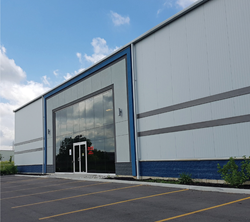 KANSAS CITY, MO (PRWEB) June 29, 2017
Sioux Chief Manufacturing Company is furthering its commitment to serving the Canadian marketplace with the opening of a new distribution center in Brantford, Ontario.
Beginning on July 10th, 2017, all orders will be shipped out of this new facility to customers across Canada. "We are excited about this next step in the growth of our business in Canada," said Howard Huss, Director of Sales for Canada. "Our wholesale and retail customers will enjoy more timely shipping and will have even greater access to Sioux Chief's full line of products." Customer Service and Sales Support services will continue to be provided from the company headquarters, currently in Peculiar, MO.
The new distribution center is the first of its kind, and the latest example of the steps Sioux Chief is taking to foster the important relationships with its customers there. "A distribution center in Canada has been a goal for Sioux Chief and is a sign of our commitment to our Canadian market," said Joe N. Ismert, President. "It is exciting to see this realized."
For more information on Sioux Chief, visit their website at http://www.siouxchief.com.