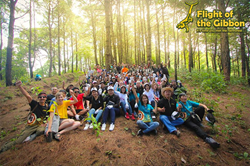 The event ran very smoothly and was well attended by numerous organizations, companies and the general public helping to make it a great success.
Chiang Mai, Thailand (PRWEB) June 29, 2017
A total of 2,220 saplings were planted in Mae Kampong with support from Flight of the Gibbon staff, members of the public, agents, national park staff and staff from the Central Department Store (Festival Chiang Mai and Kad Suan Keaw Branch who all kindly donated their time to support the initiative. The site was chosen due to its low biodiversity and 26 native species of tree were chosen for a number of reasons such as their resistance to fire, ability to bear fruit for a number of different animal species and ability to create a broad canopy to create shady conditions to inhibit weeds. Among the 26 species includes bishop wood (Bischofia javanica), soapberry (Sapindus rarak), Indian gooseberry (Phyllanthus emblica), Orange Wild Rhea (Debregeasia longifolia) and Phaya Mai (Podocarpus neriifolius)
The tree species for this area were sourced from Forest Restoration Research Unit, CMU (FORRU-CMU) and Flight of the Gibbon had the kind cooperation and support from Mae Takri National Park and Chae Son National Park along with the village of Mae Kampong.
Khun Phuttida Nippanon, Conservation Executive at Flight of the Gibbon expressed her satisfaction with the event saying: "The event ran very smoothly and was well attended by numerous organizations, companies and the general public helping to make it a great success. We hope that in years to come the trees will help protect this important watershed as well as help increase biodiversity in the region."
More Tree Planting Events Scheduled
This was the first of three tree planting events to be held in 2017, the next of which is to be held at Mae Takri National Park in 15th July 2017 at an area previously deforested by illegal farming practices with the final event to be held at Tham Pha Thai National Park in Lampang province also in 22nd July 2017. Overall Flight of the Gibbon aims to plant 15,000 trees in 2017 and is one of several conservation initiatives the company is committed to.
2017 marks the 10-year anniversary since the beginning of Flight of the Gibbons tree planting events. Every year since 2007 Flight of the Gibbon has held at least one event with great success and also follow up on all tree planting projects regularly with maintenance including weeding and fertilizer to make sure the majority of these saplings survive to maturity.
About Flight of the Gibbon
Flight of the Gibbon was started in 2007 by a group of nature-loving friends inspired by the rescue and rehabilitation of a pair of sick gibbons they found abandoned in a locked cage in the northern Thailand rainforest. Today Flight of the Gibbon is a leading global eco-adventure tour operator and the number one eco-tourism attraction in Thailand, thrilling customers with spectacular rainforest ziplines that are among the longest and highest in the world.
Our Mission
Flight of the Gibbon connects people with Asia's nature, history and bygone stories while conserving nature and traditional livelihoods. Flight of the Gibbon is remembered as a once-in-a-lifetime experience with uniqueness, mystery and surprise that visitors taste, smell, see, hear and feel.