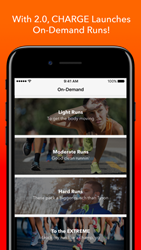 This is an amazing idea. Version 2.0 is bringing CHARGE Running to an entirely new level
Chicago, IL (PRWEB) June 29, 2017
CHARGE Running, a widely popular fitness app that has already been downloaded fifteen thousand times in less than three months, has launched Version 2.0. The application has been featured twice in the Apple App Store, ranking above Nike Run Club, Jillian Michaels, and Beachbody in the category "Workouts and Trainers". Since the launch of the app in April, thousands of users have experienced the benefits of using CHARGE Running during the multiple scheduled runs a day. Each live run includes real-time feedback from world-class trainers, a group chat to allow communication between the trainer and other runners, and a live leaderboard to track how far a user has run. With the addition of 2.0, runners are no longer restricted to just the scheduled runs; they can run any time they want through the use of new On-Demand Runs.
"This is an amazing idea. Version 2.0 is bringing CHARGE Running to an entirely new level," stated Charles Plante, a frequent CHARGE user and early beta tester of the new version. On-Demand runs are a breakthrough because users get the full CHARGE Running experience anytime of day. "It has been fun creating, recording and testing version 2.0, and we will be constantly creating more On-Demand runs, so it will always be changing and updating to make sure every runner gets exactly what they need," Lead CHARGE Trainer Rory Justin stated. CHARGE Running also ports over live runs to On-Demand, so runners can still get a personalized feel as well as being able to run side by side with anyone who has already completed that run in real time on the live leaderboard.
The new On-Demand feature is user-friendly and allows the user to pick their intensity level, duration of the workout, and trainer. Some popular classes have included Julie's light run "Walking on Sunshine" and Levi's extreme "Battle With the Bull." In addition to On-Demand runs, the new version also includes a new way to challenge other family and friends. Once signed up for a run, the user can take a selfie and share it with their friends with captions such as "I challenge you!" or "Wanna Race Me?"
People are always looking for a new, exciting, affordable way to reach their fitness goals. With CHARGE Running users get unlimited group classes so you're never in it alone, a personal trainer to help coach, and the motivation needed to reach your goals, all for $9.99 a month. Download CHARGE Running today for free on the Apple App Store and for a limited time get a full month free.
For more information on CHARGE Running head to the Apple App Store and download the App or visit http://www.chargerunning.com