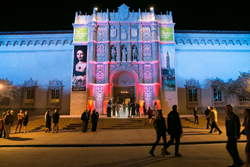 San Diego, CA (PRWEB) June 28, 2017
Summer in San Diego is in full swing and Balboa Park is stepping up to the plate to keep the fun going all season with new exhibits and activities for Balboa Park After Dark visitors, every Friday night, 5:00-8:00 pm, through Labor Day weekend.
The Fleet Science Center's newest exhibit, Game Masters: The Exhibition, offers a sneak peek to Balboa Park After Dark-goers this Friday, June 30. Game Masters showcases the world's best video game designers, from the arcade era to today's mobile games—including 100+ playable games! The Fleet will stay open extra late, until 10:00 p.m., with gaming on the Giant Dome screen and a no-host bar (open at 6:00 p.m.) for adult beverage needs. Plus, Fanboy Gaming will be on-site with 10 gaming setups for a Gears of War 4 gaming competition. Game Masters officially makes its California premiere on Saturday, July 1. Be among the first to see it, the night prior to its official opening! Regular admission applies. Once you're in, all game play is free. Last admission is 9:30 p.m.; the building closes at 10:00 p.m.
For those looking for nature-based fun on Friday nights, the San Diego Natural History Museum's 2D and 3D films are a can't-miss in their 300-seat, stadium-style theater featuring the latest in digital 3D technology. Each Friday night enjoy Ocean Oasis, Galapagos 3D and Sea Monsters 3D. Also at theNAT this Friday, June 30 be sure to check out Trivia Night—Nature at the Movies. The museum is offering special behind-the-scenes programming throughout the duration of Balboa Park After Dark, including Sci-Fi Friday film nights, Canyoneer hikes and iNaturalist demos.
Food Truck Fridays is also going strong at the Park, this week offering everything from pizza to sushi, BBQ to shave ice, plus New Orleans-style fare to enjoy with this week's live outdoor entertainment: Gator by the Bay/Bon Temps Social Club featuring Theo and the Zydeco Patrol. Enjoy a fiery mix of Cajun and Zydeco dance music. Food Truck Fridays runs 4:00-8:00 p.m., June 2-September 29, 2017.
Balboa Park After Dark participating museums include*:

Japanese Friendship Garden
Mingei International Museum
Late hours begin July 7. Special $5 admission price.

San Diego Art Institute
Spanish Village
San Diego Museum of Man
In addition to the museum being open until 8:30 pm each weekend, enjoy special sunset tours of the California Tower (timed tickets required) and the newly opened Living With Animals exhibit.

San Diego Natural History Museum (the NAT)
The San Diego Museum of Art
Art After Hours every Friday. Special $5 admission price.

Open until 8:00 pm Fridays with half-priced IMAX films at 7:00 pm in the Heikoff Giant Dome Theater in May and June. Open extra late on Fridays in July and August for video game madness in Game Masters.
Balboa Park Explorer passholders receive FREE general admission. Purchase your Explorer Pass today at https://explorer.balboapark.org/.
*Museum of Photographic Arts (MOPA) is open until 8:00 pm on Thursdays (not Fridays). The San Diego Museum of Man is open until 8:30 pm Friday–Sunday, plus Labor Day and Memorial Day. Extended hours at other museums may vary and are subject to change. Please visit the website of the institution you wish to visit for more information.
ABOUT BALBOA PARK CULTURAL PARTNERSHIP
Balboa Park Cultural Partnership is a nonprofit organization through which 28 arts, science and cultural institutions in Balboa Park collaborate to achieve shared goals. By helping these groups achieve greater organizational efficiency, innovation and excellence, it seeks to contribute to the vitality and sustainability of Balboa Park. For more information visit http://www.bpcp.org. Visit us at Facebook.com/ExploreBalboaPark, Instagram.com/ExploreBalboaPark, Twitter.com/ExploreBP.