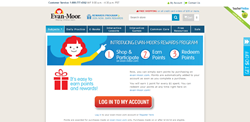 From a growth perspective, customer retention, repeat sales and website visitor engagement were very important to us. Zinrelo's solution has enabled us to do that effortlessly. - Paul Warfield, Marketing Manager at Evan-Moor Educational Publishers
Sunnyvale, CA (PRWEB) June 29, 2017
Zinrelo's modern day loyalty rewards program is enabling creative educational publisher Evan-Moor to garner the loyalty of those who visit its website, turning visitors into loyal, repeat customers. Since its inception, the loyalty rewards program has seen a month-on-month increase in the number of users who are actively engaged with the program.
Evan-Moor provides practical yet engaging materials designed to enhance the PreK–8 curriculum. The company launched the Evan-Moor Rewards Program based on the complete 360-degree engagement solution from Zinrelo. Since then, the Average Order Value (AOV) for loyalty users' of Evan-Moor jumped by 53% as compared to non-loyalty users. In addition, the repeat purchase frequency for loyalty users increased by 37%. Subsequently, per-customer revenue for loyalty members has risen by a staggering 108%.
"Zinrelo's loyalty rewards program has consistently delivered impressive results," commented Paul Warfield, Marketing Manager at Evan-Moor Educational Publishers. "From a growth perspective, customer retention, repeat sales and website visitor engagement were very important to us. Zinrelo's innovative solution has enabled us to do that effortlessly. The loyalty rewards program was incredibly fast and easy to integrate, and offers a complete solution for our needs. 360-degree customer engagement has driven up revenue significantly."
The Evan-Moor Rewards Program uses a unique reward structure to boost customer retention. It rewards its customers for multiple activities such as purchases, referrals, creating an account, uploading a photo and signing up to the company's email subscription service. The company also offers attractive redemption options to encourage its customers to continuously engage with the loyalty rewards program. Gift cards of $10, $20 and $50 can be redeemed in exchange for the awards that are built up, with points accruing at a rate of 1 point for every $1 spent.
"Companies don't have time to waste with complex, time-consuming loyalty implementations," stated Samir Palnitkar, Founder of Zinrelo. "That's why our focus has always been on offering a loyalty rewards program that can be implemented seamlessly, providing businesses with a 360 degree solution to enhance their customer loyalty and retention. For Evan-Moor, the Zinrelo loyalty rewards program has delivered excellent results, driving up loyalty, retention and repeat business."
Zinrelo's Enterprise-Grade Loyalty Rewards Program is packed with innovative and unique features to help businesses create fiercely loyalty customers. Some of the key features are;

360-Degree Engagement module: This feature allows businesses to reward its customers in multiple ways by adding custom activities for rewards.
Unmatched User Experience: The self-service platform offers a fully customizable End-User Dashboard and Admin Console for enhanced flexibility.
Powerful Business Rules engine: This unique feature can help businesses build sophisticated reward scenarios that can maximize user engagement. Examples are:
10X points for Category = SHOES
5X points for Category=SWIMWEAR
Double the referral reward points if the referred purchase order value is greater than $300
Omni-Channel support: The loyalty rewards program can be deployed seamlessly across desktop web, mobile web, mobile apps and in-store environments.
Powerful API access: Zinrelo loyalty rewards program has been developed using an API-first approach. It is the only loyalty rewards program in the world that can be seamlessly embedded within your business processes completely via APIs and Webhooks.
Pay-As-You-Go pricing: Zinrelo offers a pay-as-you-grow plan that enables you to build a customized loyalty program to achieve your business objectives.
About Evan-Moor:
Evan-Moor Educational Publishers provides educators with practical, creative and engaging materials that enrich the PreK–8 curriculum. Through the years, Evan-Moor has remained loyal to its mission: aligning educational materials with current standards and educational practices while piquing students' interest and motivating them to learn. Evan-Moor Educational Publishers offers a range of products, including teacher resource books, interactive lessons, student activity books, e-books, intervention resources, and free resources for both teachers and parents. For more information on the publisher, visit http://www.evan-moor.com.
About Zinrelo:
Zinrelo brings you the world's best loyalty rewards and referral programs, helping to maximize revenue per customer and new customer acquisition through 360-degree customer engagement. It supports Omni-channel interactions including desktop web, mobile web, mobile apps and in-store engagements.
Zinrelo loyalty rewards program boosts per-customer revenue by 2.4 times and repeat purchases by 80%. It creates fiercely loyal customers that are rewarded for all forms of engagements including purchases, social advocacy, reviews, sign-ups, referrals, photo sharing and more. It is fully customizable and is easy to deploy. Zinrelo referral program delivers 25% uplift in new customer acquisition by converting your customers into brand ambassadors.
To zing your loyalty and referral programs, contact Zinrelo at http://www.zinrelo.com or info(at)zinrelo(dot)com