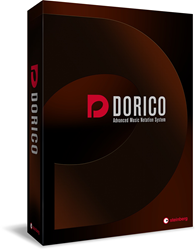 "Dorico is already being used by professional musicians around the world, and we expect its newly expanded capabilities to help establish it as the scorewriter of the future." (Daniel Spreadbury, product marketing manager, Dorico)
HAMBURG, Germany (PRWEB) June 28, 2017
The future of scoring gets considerably brighter today with the release of Dorico 1.1, a significant update to Steinberg's new professional music notation software.
Dorico is the only scoring software that musicians can compose or arrange freely into. Its deep knowledge of music theory ensures the music is always clearly and correctly notated, however complex it is and whatever changes are made to it. Dorico produces beautiful sheet music by default: designed by the most experienced notation software development team, Dorico is better at music engraving than almost any human. And Dorico is the only professional scoring program with an integrated piano roll MIDI editor and support for VST Expression.
The new Dorico 1.1 update provides a significant step forward in the application's capability, building on the nearly 500 improvements already delivered in three previous updates since its launch in October 2016.
This release introduces sophisticated support for chord symbols. While chord symbols are added by playing a MIDI keyboard or typing on the computer, Dorico automatically writes chord symbols in any of six pre-set conventions, and lets users tweak the appearance using dozens of options. Dorico is also the only professional scorewriter to support polychords.
Other new features in Dorico 1.1 include:

Piano pedaling with comprehensive support for advanced techniques — including partial pedaling, changing the pedal level over time and more;
New repeat ending lines for 1st and 2nd time bars, perfectly positioned;
Unique intelligent note spelling for MIDI step input, which automatically avoids common enharmonic errors during input;
Expanded editing operations, allowing users to move dynamics, slurs, hairpins, octave lines and other notations easily with the mouse, intelligently snapping them to ideal positions;
New selection features, allowing users to quickly select items of a certain kind for further editing;
Comprehensive features for precise editing of rhythmic spacing, designed in consultation with experienced professional engravers;
Expanded import and export features, allowing users to import music from other projects and MusicXML files into a current project, and export sections of a project in Dorico, MIDI, MusicXML and audio formats.
"We are excited to be delivering the features that are most often requested by our customers in this update, and we have done our best to ensure our implementations are better and easier to use than any other software," said Daniel Spreadbury, product marketing manager for Dorico. "Dorico is already being used by professional musicians around the world, and we expect its newly expanded capabilities to help establish it as the scorewriter of the future."
For more information about Dorico, or to download the free 30-day trial version, visit http://www.steinberg.net/dorico.
Availability and pricing
Dorico 1.1 is available immediately as a free update for existing Dorico users, and new customers buying Dorico for the first time will automatically receive Dorico 1.1 when they install.
Dorico is now available from resellers and through the Steinberg Online Shop. Retail price is $739.99 (MSRP).
Dorico is also offering educational pricing for qualifying teachers and students, as well as a special limited-time crossgrade offer for qualifying Sibelius, Finale and Notion users. The crossgrade price is available until September 30, 2017.
Key features of Dorico

Best automatic notation and engraving of any software
Easy note input
Clear user interface
Excellent results by default — saves time
Intelligently adjusts notation as you write
Any number of movements or pieces in a single project
Stunning playback — nearly 1,500 sounds included
Sequencer-style piano roll MIDI editor
DTP page layout
Unbarred music, tuplets across barlines, microtonality, etc. all handled correctly — no workarounds
3,000-plus symbol music font
Transfer to and from other programs via MusicXML, MIDI, PDF, etc.
Supports VST 3 virtual instruments and effects processors (30 included)
Press contact
Stefan Trowbridge
Public Relations Manager
Steinberg Media Technologies GmbH
E-mail: press(at)steinberg(dot)net
Phone: +49 40 210 35 0
About Steinberg Media Technologies GmbH
Steinberg is known the world over for its music and audio software and hardware solutions. The company has been developing, manufacturing and selling innovative products for musicians and producers in the music, film, post production and multimedia industries since 1984. Steinberg products are used by Grammy and Oscar award-winning composers, engineers and producers. The company also offers business customers license-management and copy-protection systems.
Visit http://www.steinberg.net for further details.