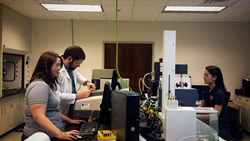 Our technical staff really helps to strengthen our ability to respond to our customers' needs.
Buford, GA. (PRWEB) June 29, 2017
RS Industrial, Inc., a leading distributor and manufacturer of industrial adhesives, is offering a complimentary RS Labs™ consultation, which will provide companies with technical expertise related to their adhesive process.
RS Labs, RS Industrial's on-site lab, was founded to provide high-level technical solutions absent for a large portion of adhesive consumers in the marketplace. The lab is regarded as a valuable resource due to its strong emphasis on customer and application specific testing, industry-experienced chemists and access to a wide array of equipment necessary to perform product and failure analysis.
"Our technical staff really helps to strengthen our ability to respond to our customers' needs," said Mike Byrne, national sales manager at RS Industrial. "They will typically join customers in the field to gather necessary information, conduct testing in the lab, and later return to the customer to assist plant production teams in implementing and monitoring changes."
Technical capabilities of RS Labs include, but are not limited to:

ASTM, PSTC, & IOPP Standardized Testing
Rheometric Evaluation
End Use Conditions Simulation
Tensile/Compression Testing
Speed and Tack Comparison
RS Labs provides adhesive consulting for companies involved with product development, manufacturing and packaging applications, to name a few.
For more information or to request an adhesive consultation, visit http://www.rsindustrial.com/rs-labs-consultation.
About RS Industrial, Inc.
In 1993, RS Industrial was born because the company's founders realized that adhesive users needed a hands-on, consultative approach to service that their current suppliers were not providing. Since then, we have continued to provide this service via speed, adaptability, customization and product technology. What makes us different from the others? Put simply, our passion for our customers.
Our company is a collection of 4 strategically located warehouses, 40,000 square feet of offices and passionate employees—all dedicated to filling the void of hands-on service that our company leaders discovered more than 20 years ago. RS Industrial is headquartered in Buford, Georgia.