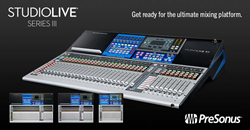 Oakland, NJ (PRWEB) June 30, 2017
PreSonus is host to the best professional audio products found on Earth. In celebration of its enduring relationship with PreSonus, American Musical Supply has released this new brand origin & evolution story, by music industry journalist Malcolm Doak.
Some eighty miles upriver from New Orleans sits the deep-water port and Louisiana state capital of Baton Rouge – the home of Louisiana State University. It is here on the mighty Mississippi and far from the high-tech havens of Silicon Valley, The Pacific Northwest, and The Northeast Corridor that LSU graduates Jim Odom and Brian Smith cleared out some space in Odom's garage and founded PreSonus® Audio Electronics, Inc., back in 1995.
Shortly thereafter, Rick Naqvi joined the company, in his words, "as employee number three or four." Decades later, PreSonus has grown into one of the most innovative and market-defining manufacturers of audio software and hardware products on the planet.
The distinctive PreSonus Mixers, PreSonus Monitors and Controllers, PreSonus Live Sound Reinforcement, Presonus Audio Interfaces, and Other PreSonus essentials (which include their pioneering signal processors, microphone preamps, and software packages) are in use in countless recording, home, and project studios, in a growing number of broadcast and podcast studios, and on stage in clubs and concert venues spanning the globe.
PreSonus remains firmly seated in their Cajun-country environs, and in 2014 the company moved into an entirely new facility in Baton Rouge, complete with state-of-the-art recording facilities, isolation booths, a video production suite, and a premier live-sound room where the crew can tinker, experiment, analyze, and put their designs to the test in real-world application. There, the PreSonus team is free to record and perform, because, as their website states, "music really is our life."
PreSonus and American Musical Supply have developed a healthy relationship over the years. In many ways, the AMS customer is the ideal PreSonus user. The visionary, problem-solving, and easy-to-use products created by PreSonus help many AMS customers make that climb from novice musician to audio expert. Rick Naqvi explains, "I talk to so many customers … from beginners that are making music on their computers to touring professionals, all the way to church volunteers that are using our mixers and speakers. The one common element is that all of these consumers are trying to complete challenging tasks; our job is to make these tasks less complicated, so our customers remain free to be creative."
Music Matters
Founder Jim Odom is now the President and Chief Strategy Officer at PreSonus, Brian Smith holds the title Vice President of Engineering, and Rick Naqvi is the Vice President of Sales. Both Rick and Jim shared their valuable time to lend some of their own personal histories and philosophies — and added some behind-the-scenes insights — into what makes a PreSonus tick. In a word? Music. Founder Jim Odom began playing guitar at age 10, after laying claim to a guitar in his father's closet.
Need Creates a Company
Introduced in 1995, the DCP-8 was the first product from PreSonus. With a list price under $1000, it was an instant hit – even before production began. Jim Odom told us a bit about the creation of the DCP-8, "In the early 90s, I was mixing a lot of records on top-of-the-line SSL [Solid State Logic] and Neve recording consoles, all with fabulous automation, compression, and gating on every channel. Then came the ADAT … and the Mackie 8-bus mixer.
Next Frontier
"The next frontier for PreSonus is the human connection via our mature cloud services, and that initially came through the Nimbit acquisition," according to Jim Odom, who quickly added, "but watch for some mind blowing announcements regarding the world's content and Studio One." Rick Naqvi picked up on the theme, "There is so much great technology available to musicians today. We have found that by acquiring and partnering with other companies, we can improve the overall experience for our customers.
Forging the Future
In 2014, PreSonus moved into their brand-new, custom-designed world headquarters, remaining in their beloved Baton Rouge, Louisiana. Today, PreSonus continues to develop a variety of innovative, professional, and affordable tools for the music-technology/professional-audio industry with a special focus on tightly integrated hardware and software, providing systems with capabilities beyond those of hardware or software alone. As the company continues to grow and innovate, so do their products. The StudioLive III are but the latest series in the line. Studio One is now Studio One 3. Capture is available for the iPad. Mixers, control surfaces, software titles, pro-sound loudspeaker, studio monitors, audio interfaces, preamplifiers, signal processors, and recording systems are all healthy branches on the PreSonus tree.
"Our mission," claims Jim Odom, "is to support the dreams and needs of our customers. I vowed to give our engineers all of the resources needed to innovate, and we still have this as a core principle of our business." Rick Naqvi agrees, "Our first company slogan was 'Where Artists Create and Technology Performs.' I still believe that our job is to build products that help musicians and engineers create their art."
This is an abridged version of the story. Visit the official PreSonus brand page (bottom of page) at AMS to read the full story.
Visit American Musical Supply on Facebook or Twitter.
Copyrights: use of this story, in part or in full, is granted provided original source page is referenced: https://www.americanmusical.com/PreSonus