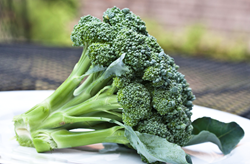 Combination treatment...exhibited synergistic growth‑inhibiting and apoptosis‑promoting [cell death] activities.
Raleigh, NC (PRWEB) June 29, 2017
Scientists say the organosulfur compound sulforaphane found in vegetables like broccoli, cabbage, and cauliflower may have a role to play in the chemotherapeutic treatment of mesothelioma. Surviving Mesothelioma has the full story on the new research. Click here to read it now.
When doctors at Soonchunhyang University combined sulforaphane and cisplatin and applied the mixture to human pleural mesothelioma cells in the lab, the results were encouraging.
"Combination treatment with the two compounds exhibited synergistic growth‑inhibiting and apoptosis‑promoting [cell death] activities, as demonstrated by a series of proapoptotic events," write researchers Yoon-Jin and Sang-Han Lee.
Their study, published in the journal Molecular Medicine Reports, found that the combination of sulforaphane and cisplatin was even more effective when another compound was used first to inhibit the cell component recycling process known as autophagy.
"This is a complex study with a simple message: Sulforaphane clearly has anti-cancer properties," says Alex Strauss, Managing Editor for Surviving Mesothelioma. "The challenge going forward will be to determine how best to use these properties to expand treatment options for the 2,500 Americans diagnosed with malignant mesothelioma each year."
There is more information about the Korean study on sulforaphane in Compound in Broccoli May Enhance Mesothelioma Treatment with Cisplatin, now available on the Surviving Mesothelioma website.
Lee, YJ and Lee, SH, "Pro-oxidant activity of sulforaphane and cisplatin potentiates apoptosis and simultaneously promotes autophagy in malignant mesothelioma cells", June 15, 2017, Molecular Medicine Reports, Epub ahead of print, https://www.spandidos-publications.com/10.3892/mmr.2017.6789
For more than a decade, Surviving Mesothelioma has brought readers the most important and ground-breaking news on the causes, diagnosis and treatment of mesothelioma. All Surviving Mesothelioma news is gathered and reported directly from the peer-reviewed medical literature. Written for patients and their loved ones, Surviving Mesothelioma news helps families make more informed decisions.