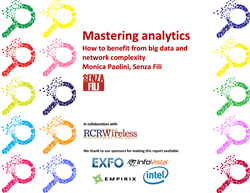 Wireless Networks are about to become smarter and more efficient, and at the center of that transformation is analytics.
Austin, Texas (PRWEB) June 29, 2017
Operators finally have the tools they need to optimize their networks in real time and, in doing so, to increase the efficiency of network resources and improve subscribers' QoE.
To do so, they need to gain a deeper understanding of how their networks work, e.g., of how performance and QoE depends on application, time/location, network condition – and how these factors interact, and how performance issues can be mapped to specific network elements and resolved.
Monica Paolini of Senza Fili spoke with experts in the analytics field for their views on how analytics can make wireless networks smarter, how analytics can leverage ML and AI to do so, and why this is happening now including experts from EXFO, InfoVista, Empirix, and Intel.
The report, entitled "Mastering Analytics: How to benefit from big data and network complexity" discusses the findings on this topic, and explores how operators can use analytics to understand how their networks work and to optimize utilization and performance. In particular she will look at the role of artificial intelligence and machine learning in the transition from an analytics approach based on historical data to a real-time, end-to-end, QoE-based approach, and eventually to a predictive framework.
Download this report to learn about the implications of mastering analytics including:

Analytics expanding the scope optimization
Machine learning and AI allowing us to find out things we do not know
Network complexity making analytics worth the effort
Learning requires work – and learning to fail is part of it
Cultural shift is likely to be the biggest challenge to quick rollouts of analytics
Operators are now convinced of the necessity of analytics and strong optimization
Monica Paolini also presented a complimentary webinar on this topic
About Monica Paolini
Monica Paolini, PhD, is the founder and president of Senza Fili. She is an expert in wireless technologies and has helped clients worldwide to understand new technologies and customer requirements, create and assess financial TCO and ROI models, evaluate business plan opportunities, market their services and products, and estimate the market size and revenue opportunity of new and established wireless technologies. She frequently gives presentations at conferences, and writes reports, blog entries and articles on wireless technologies and services, covering end-to-end mobile networks, the operator, enterprise and IoT markets. She has a PhD in cognitive science from the University of California, San Diego (US), an MBA from the University of Oxford (UK), and a BA/MA in philosophy from the University of Bologna (Italy). http://www.senzafiliconsulting.com/
About RCR Wireless News
Since 1982, RCR Wireless News has been providing wireless and mobile industry news, insights, and analysis to industry and enterprise professionals, decision makers, policy makers, analysts and investors. Our mission is to connect, globally and locally, mobile technology professionals and companies online, in person, and now on video. Our dedication to editorial excellence coupled with one of the industry's most comprehensive industry databases and digital networks leads readers and advertisers to consistently choose RCR Wireless News over other industry publications. http://www.rcrwireless.com