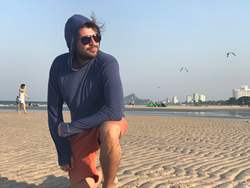 No more insect bites while discovering the world. That is the dream.
Gloucester, MA (PRWEB) June 30, 2017
NoBu.gs, one of the most innovative insect repellent outdoor clothing brands on the market, today unveiled The NoBu.gs Nomad collection, providing superior performance for adult outerwear. The announcement followed a successful Kickstarter campaign launch which reached its goal in just under four hours.
Originally developed for the US Army, the Insect Shield technology used by the NoBu.gs Nomad line gives wearers full body protection against mosquitos, ticks, flies and other biting insects. NoBu.gs was a pioneer in bringing this technology to the consumer market with its successful kids clothing line.
The new NoBu.gs Nomad clothing line has received rave reviews from several target groups including travelers, professional cameramen, fishing fanatics and outdoor experts.
"I was skeptical at first. Would this really work?" says Steve, a professional cameraman in Asia. "I took it into the jungle of Thailand to try, and it is amazing. Not just keeping all those nasty mosquitos away, but the cooling effect of the fabric is fantastic in this extreme climate."
NoBu.gs Co-founder Tom Sam said, "We have thousands of parents that love our products. But it was time for us to make a line that I could actually wear myself. We wanted to design a line of garments that protects you from head to toe on your wildest adventures from both insects and strong UV rays while exploring the globe."
The NoBu.gs Nomad insect repellent outdoor line is now available on Kickstarter and will be delivered to supporters soon after the campaign ends.
Key Product Specs:
NoBu.gs Nomad Insect Repellent Cooling Hoodie
0.3kg (10oz) average weight
MSRP: $99.99 USD
Kickstarter 50% off
NoBu.gs Nomad Insect Repellent Cargo Pants
0.3kg (10oz) average weight
MSRP: $109.99 USD
Kickstarter 50% off
NoBu.gs Nomad Insect Repellent Sock 3 Pack
0.1kg (3.3oz) average weight
MSRP: $59.99 USD (for 3 pairs)
Kickstarter 50% off
When bought in combination you will receive discounts of up to 63%!
Designed for long lasting protection against insects and the elements. The lightweight, NoBu.gs travel collection is more than just a revolution in insect repellents, it's a giant leap for travel and outdoor wear.
Intended for everyday use on all corners of the globe, whether you're traveling to the farthest point or just to the backyard for a barbeque, NoBu.gs will keep you protected!
NoBu.gs nomad garments are:

Insect Repellent
Cooling
Compact
Moisture Controlling
UV Protective
And more…
Click here to go to our Kickstarter page.
Or go to our website to see our Maternity, Baby and Kids products.