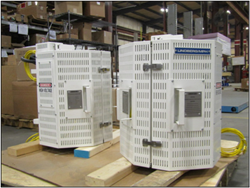 Riverside, MI (PRWEB) June 29, 2017
Lindberg/MPH announced the shipment of a pair of custom 500°C Tube Furnaces to be used in a healthcare laboratory application.
The furnaces are 8.5" in diameter with a 16" long heated chamber with a maximum temperature rating of 500°C. The approximate exterior dimensions are 15.5" W X 22" L x 18.75" H.
The Lindberg/MPH 54S series tube furnaces are available in single or three-zone models with hinged or solid designs. Tube furnaces provide a uniform high temperature atmosphere for small batch sizes and laboratory work in applications such as annealing, crystal growing, heat treating, pyrolysis, and sintering.
The 54S furnace series is available in a variety of standard configurations and are often modified for special usage including vertical operation. The 54S heated chamber includes a rugged steel shell lined with low heat conductivity insulation. The furnace shell is powder coated and fitted with end heads. They feature insulating vestibules at each end of the heating chamber to reduce heat losses and effectively extend the uniform temperature zone. The furnaces also have high temperature insulation mounted in a cylindrical steel shell.
"The versatility of the 54S series tube furnaces made them a perfect fit for the customer's lab setting and application."- Don Ostrom, Sales Representative
Unique features of these Lindberg/MPH tube furnaces include:

High temperature insulation mounted in cylindrical steel shell
Single zone helically coiled nickel chrome alloy heating elements are retained by refractory shapes
Designed for operation on 480V/1 Phase/50/60 Hertz
One type "K" thermocouple
Custom white powder coated finish
Equipment includes guarding, alert paint colors, and labeling of mechanical and electrical hazards per OSHA requirements
These tube furnaces were completely factory assembled, pre-wired, piped and tested prior to shipment. All Lindberg/MPH equipment comes with an exclusive 3-year warranty, which covers all materials for all components (less wear items).
About Lindberg/MPH
In addition to melting and holding furnaces for non-ferrous alloys, Lindberg/MPH is a leading manufacturer of standard and custom industrial heat treat furnaces, including pit, box, IQ, and belt type for the ferrous and non-ferrous markets. Lindberg/MPH customers cover a wide range of industries including aerospace/military, automotive, commercial heat treating, energy/oil, electronics and the forging markets. Founded in 1917, the company has more than 75,000 industrial furnace installations worldwide and their equipment is backed by a full range of customer support services and the most extensive replacement parts inventory in the industry. Lindberg/MPH is a proven leader in the thermal processing industry, with a long track record of proven policies and management practices.
Lindberg/MPH is owned by Thermal Product Solutions ("TPS"), a leading American manufacturer of custom industrial ovens used for heat treating, finishing, drying, curing, manufacturing automation and process control. TPS is a global leader in thermal processing products and test solutions with brands including Baker Furnace, BlueM, Gruenberg, Tenney, Lindberg, Lunaire, MPH, and Wisconsin Oven. For more information on equipment solutions from TPS visit the website at http://www.thermalproductsolutions.com. #225592