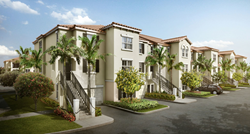 Interest in the community remains strong and we are excited to be working with The Altman Companies to bring a luxury apartment community to the city of Hialeah
Fort Lauderdale, Florida (PRWEB) June 29, 2017
BBX Capital Real Estate, a division of BBX Capital Corporation, is pleased to announce that the first three buildings of apartment homes at Altis at Bonterra have been completed and the first residents have moved in.
In January 2016 BBX Capital Real Estate entered into a joint venture with The Altman Companies to develop Altis at Bonterra. Located within BBX Capital Real Estate's Master-Planned community of Bonterra in Hialeah, Florida, Altis at Bonterra will comprise of 314 apartment homes on approximately 14 acres.
Altis at Bonterra features a mix of one, two and three bedroom apartment homes averaging approximately 1,063 square feet. Units feature gourmet kitchens, energy star appliances, granite counters, contemporary espresso cabinets as well as spa-inspired baths with raised vessel sinks, marble counters and spacious linen closets. The development offers a community garden, dog agility park and membership in a resort style 6,245 square foot clubhouse which includes a beach entry pool, pool pavilion, outdoor kitchen, pool-side cabanas, full circuit fitness center, movie entertainment area, game room, and a kids' play 'n study area.
"We are pleased to announce our continued progress with Bonterra," said Seth Wise, President of BBX Capital Real Estate. Bonterra is a desirable location and is easily accessible to Miami, the proposed American Dream mega mall and nearby employment opportunities. Interest in the community remains strong and we are excited to be working with The Altman Companies to bring a luxury apartment community to the city of Hialeah."
Including Altis at Bonterra, when completed the master-planned Bonterra community will comprise of approximately 128 acres of land and feature 1,171 highly stylized single-family homes, villas, town homes, and apartments, along with several parks and a 15 acre lake.
BBX Capital Real Estate is also in a joint venture with CC Homes - a Codina-Carr Company, to develop approximately 394 single-family homes at Bonterra, and sold an approximate 36-acre parcel of land in Bonterra to Lennar Corporation, on which Lennar is building approximately 463 single-family homes, villas and townhomes.
For more information on Altis at Bonterra, please call 844-369-6148 or visit http://www.altisbonterra.com.
About BBX Capital Real Estate: BBX Capital Real Estate, a division of BBX Capital Corporation, is involved in the development, operation, management, and investment in residential and commercial real estate including investments, directly and indirectly through joint ventures, in master planned communities, multifamily rental communities, single family for sale communities and commercial properties located primarily in Florida. For more information, please visit http://www.BBXCapitalRealEstate.com.
About BBX Capital Corporation: BBX Capital Corporation is a diversified holding company whose principal activities are its ownership of Bluegreen Corporation and, through its Real Estate and Middle Market Divisions, the acquisition, ownership and management of joint ventures and investments in real estate and real estate development projects and middle market operating businesses. As of March 31, 2017, BBX Capital had total consolidated assets of $1.4 billion, shareholders' equity of $477.9 million, and total equity of $521.6 million. For more information, please visit http://www.BBXCapital.com.
About The Altman Companies: Since 1968, the Altman Companies has developed, constructed, acquired and managed in excess of 22,000 multi-family units in Florida, Michigan, Illinois, Tennessee, Georgia, Texas and North Carolina. The company has a reputation for developing and operating luxury apartment homes and condominiums. For more information on The Altman Companies, go to http://www.altmancos.com.