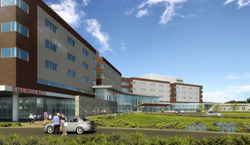 "We leveraged Lean design to create a new campus that promotes health and supports Inspira's mission to care for its community." - Jonathan Bykowski, Principal & Continuous Improvement Practice Leader
Philadelphia, PA (PRWEB) June 30, 2017
Inspira engaged Array to create an efficient, modern and sustainable platform for delivering state-of-the-art healthcare as well as create a community asset that educates and promotes healthy lifestyles for southern New Jersey. The hospital is envisioned as the first piece in a campus that will evolve and expand to keep up with and meet healthcare and societal needs. The new hospital is designed to serve the acute care needs of the community and includes emergency services, surgery department, all-private intensive care and medical/surgical inpatient units, woman-baby care and imaging services. This hospital has been designed utilizing LEAN concepts which result in the most efficient, coordinated and consistent delivery of care to patients – this approach can have more of a long-term impact on reducing wastes than almost any other singular strategy by ensuring that we only build what is required and that it is designed to be operated as intended. Said Array's principal and practice leader of continuous improvement Jonathan Bykowski, "To create a new campus that promotes health and supports Inspira's mission to care for its community we leveraged Lean design. As an integrated team we came together with stakeholders from all disciplines and services to define new operational models, test rapid prototypes and ensure the patient experience exceeded their goals."
From a master planning perspective, the campus has been arranged to allow the hospital the flexibility to grow over time to accommodate changing community needs in a manner which ensures ease of access and coordinated operations. The campus landscaping is a focal point and intended to strike the proper balance between density of plantings (to create an indigenous and natural aesthetic) and open spaces (for clear site lines and campus navigation).
From a building design perspective, Array's team of dedicated healthcare architects and interior designers sought to infuse the project with materials that are both high-tech (as a reflection of the state-of-the-art care that Inspira delivers) and are high-touch (to align with the evidence-based healing properties associated with natural materials). Durable and efficient modern materials are paired with expansive windows which clearly reveal the public spaces and circulation pathways of the building's interior. Windows have been maximized in the patient rooms and the planning of the patient wings includes gaps which allow natural light to penetrate deep into the interior workspaces of the units through floor-to-ceiling curtainwall glazing. According to Array's principal designer, Kent Doss, "Creating this new healthcare campus has been a team effort. We partnered with local consulting teams to complement Array's and Skanska's local experts. Our planning and design approach is rooted in fully understanding our clients' current operations and their future goals. We focus on sustainable business solutions for today's evolving healthcare environment."
The project's approach to sustainability is broader than compliance with a single rating system and starts with the foundational conception of the facility's operation. An example of the health system's commitment to sustainability is the very land that it is built on – originally farmland – which can be hazardous due to the accumulation of years of unregulated fertilizers and pesticides. As part of the development of the healthcare campus, Inspira is remediating the contaminated soil contained on the site and returning the land to health. Additionally, building materials – both inside and out - were carefully selected to create a healthy environment for patients, staff and visitors. Products were analyzed to balance the desired aesthetics with the required performance and durability characteristics. Recycled content, VOC content, manufacturing practices and locations and long-term maintenance requirements are just a few of the factors that were considered when choosing products. Energy efficiency is another sustainability value-stream that has been carefully integrated into the project's design. As a result of its intensive 24/7/365 operational requirements, the typical hospital consumes large amounts of energy. The team addressed this concern with efficient systems as well as energy cogeneration within the central utility plant and renewable energy generating solar photovoltaics within parking lot and landscaped areas.