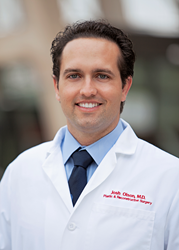 Gilbert, Arizona (PRWEB) July 14, 2017
When researching Scottsdale plastic surgeons for a facelift, breast augmentation, or other plastic surgery procedure, many people experience some sticker shock. Women and men who are considering cosmetic surgery in the Paradise Valley area assume that they have to pay Scottsdale fees to get the best quality.
That's not necessarily the case. Hop on the 101 South Loop to the 202 East Loop, and in as little as 30 minutes there is a plastic surgery practice just east of Chandler that's home to one of Arizona's leading board-certified plastic surgeons.
"Patients considering aesthetic surgery are often surprised that Scottsdale practices, in general, charge more for the same procedures than a practice in Gilbert does," says Dr. Josh Olson of Advanced Plastic Surgery Institute. "The savings can be rather significant."
Dr. Olson earned his medical degree at the University of Arizona College of Medicine and completed a combined plastic and reconstructive surgery residency at the University of Utah. He then had the opportunity to train with some of the best plastic and cosmetic surgeons in the world at the renowned Ivo Pitanguy Clinic in Brazil.
"Many plastic surgery patients diligently save money for months or years to pay for the procedures they want," Dr. Olson says. "For a young woman who wants breast augmentation, looking outside of Scottsdale is one way to save money without sacrificing quality."
The board-certified plastic surgeon began practicing in Arizona a little more than 2 years ago, and Dr. Olson quickly established a reputation for being personable and getting excellent results. On the RealSelf website, a popular online forum where potential and past aesthetic patients ask questions and post reviews, Dr. Olson receives mostly 5-star reviews from the nearly 100 patients who have posted.
"I believe plastic surgery helps improve a person's confidence and can enhance his or her quality of life," Dr. Olson says. "I'm proud to have a team that treats patients with respect, patience, and compassion."
In addition to offering a range of plastic surgery procedures, including cosmetic and reconstructive breast surgery and body contouring procedures, Dr. Olson's practice includes a med spa for patients interested in nonsurgical aesthetic treatments.
"Cost shouldn't be the primary consideration when choosing a plastic surgeon," Dr. Olson says. "That said, it's also important to understand that the best surgeon for you may not be right around the corner, and that you can get excellent results without paying premium prices."
###
Dr. Josh Olson (http://www.advancedplasticsurgeryinstitute.com) is a board-certified plastic surgeon who combines surgical skills and artistic talent with advanced techniques to create beautiful results at his Advanced Plastic Surgery Institute, a practice he established in Gilbert, Arizona. Dr. Olson grew up in Arizona and graduated from the University of Arizona College of Medicine before completing his plastic and reconstructive surgery residency at the University of Utah. He has trained under some of the world's leading plastic surgeons at the renowned Ivo Pitanguy Clinic in Rio de Janeiro, focusing on aesthetic surgery, body contouring, and the Brazilian butt lift. He offers a variety of procedures for the face, breasts, and body at his practice, as well as nonsurgical skin treatments.