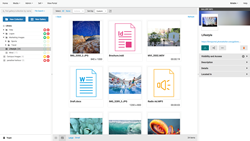 The Libris "visual first" creative workflow is the fastest possible way to move a brand's highest quality content from creator to audience.
New York, NY (PRWEB) June 29, 2017
Libris by PhotoShelter, the leading digital asset management software provider, today announced two advanced features that eliminate roadblocks for creative teams struggling to deliver timely, relevant content to their audiences. First, Libris has vastly expanded its digital asset management capabilities to include all file types, beyond the platform's visual media heritage. Alongside this announcement, the team has launched the Libris Adobe Creative Cloud Connector, enabling a seamless connection from creation to publish.
"Creative teams are facing tremendous pressure to produce and share relevant, eye-catching visual content at an unprecedented speed. We know that gaps in the workflow are slowing these teams down, and we're taking those gaps out of the equation," said PhotoShelter CEO Andrew Fingerman. "Adding these two innovations to our platform enables creative teams to more efficiently and successfully meet their audience's insatiable demand for real-time content."
The Libris "visual first" creative workflow is the fastest possible way to move a brand's highest quality content from creator to audience. Teams can now move assets through every step of the creative process with one user-friendly system that offers convenient upload methods, fast search, cloud-based access, seamless connection to Adobe's creative tools, and fast distribution to team members taking action. Content can travel from a photographer to an editor, to a designer, and to a social media manager in seconds. This real-time visual storytelling workflow empowers teams to catch their audience's attention with their best content while an event is still fresh.
Hundreds of brands use Libris to store, organize, access and distribute their visual assets. And with today's announcement, creative teams can now get the benefits of fast search, controlled self-service access and easy distribution for all of their files, including images, audio files, Adobe Creative Cloud projects and Microsoft Office documents, and make sure everything they need is always at their fingertips.
More than 500 enterprise customers, including ConocoPhillips, Pandora Media, UNC, San Francisco Travel and The Players' Tribune, use Libris for its speed, ease of use and exceptional NYC-based client services. The cloud-based digital asset management platform gives teams control and flexibility so they can upload, organize and access all their assets in a way that best works for them. Libris was built on top of the owned and operated PhotoShelter network, which was founded 12 years ago and today manages half a billion assets.
Learn more at libris.photoshelter.com.