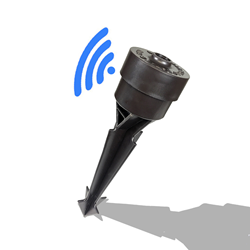 This device is designed to replace expensive lighting systems and can be retrofitted to work with your existing landscape lights
Los Angeles, CA (PRWEB) June 29, 2017
AQLighting is revolutionizing the outdoor lighting industry with Smartscape. This is a state of the art Bluetooth mesh technology that combines the best in compatibility, reliability, ease of use and price. Most wireless hub technologies require a full system to operate properly. Everything from the transformer, controllers and wiring need to be bought in a package which costs thousands of dollars in equipment and installation fees. This is not the case with Smartscape. With just a fraction of the cost, you can control all your light fixtures on the fly through our smartphone app.
"This device is designed to replace expensive lighting systems and can be retrofitted to work with your existing landscape lights," said Tom Piana, CEO of AQLighting and pioneer of the Smartscape Hub. "In a case of a power outage, most lighting systems won't remember your settings and need to be setup again, but the Smartscape Hub can simply reload your chosen settings without any hassle! The unit can even be preprogrammed before shipping out so it's ready for use right out of the box."
A Truly Smart Product
Seamlessly schedule and scene-set your outdoor lights exactly the way you want. There is no limit to how many fixtures can be grouped together, making this product perfect for any size home. It also features dimmable controls, making it easy to change the light output of your system through your phone.
This is the only light controller in the industry that allows each fixture to be controlled individually or together in custom made groupings. It can also be easily integrated with the Amazon Echo, a voice-enabled wireless smart speaker.
Simple Installation
Smartscape does not take an electrical engineer to set up properly. Its simple design makes installation a breeze. Just connect it to a low voltage transformer and any 12v AC landscape light and it's ready for operation.
Superior Engineering
SMARTscape is designed with reliability and compatibility in mind. It communicates wirelessly using Bluetooth technology, giving it a range of 150ft with line of sight or 50ft if there are barriers or walls in between. A Wi-Fi bridge can also be installed to give SMARTscape unlimited range as long as your smartphone has a Wi-Fi or LTE connection.
The app is fully compatible with IPhone or Android smartphones and can be programmed with 7 different on/off schedules for all your grouped lights. Smartscape Hub certified with an IP67 rating, making it fully resistant to dust and can withstand being submerged in 3 feet of static water for up to 7 minutes.
Pricing and Availability
Smartscape Hub and Stake are available now at AQLighting and Amazon. Pricing starts as low as $54.99.
About Your Company: AQLighting distributes and manufactures a variety of lighting fixtures for residential and commercial consumers. Keeping consumers in mind, the company strives to bring high quality yet affordable lighting fixtures that are easy to install for DIY enthusiasts and licensed electricians alike.