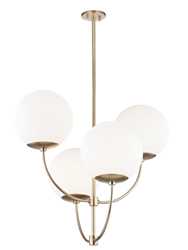 Mitzi's products enhance the spaces — they have an open and perhaps more playful feeling to them while still being manufactured to our high standards
WAPPINGERS FALLS, NY (PRWEB) June 29, 2017
Hudson Valley Lighting®, known for more than 30 years as the premier designers and manufacturers of classic and transitional lighting fixtures for the residential and contract hospitality markets, has just introduced a collection of products under the brand name Mitzi. The collection is designed to broaden the scope of the Hudson Valley Lighting brand's reach to a new demographic of consumers and designers who are more budget conscious and don't wish to compromise great design or quality.
An offshoot of Hudson Valley Lighting, Mitzi is Hudson Valley Lighting's first entry in a broader, more economically diverse audience. While Mitzi's collections are more attainable and more contemporary than Hudson Valley Lighting's classic styles, they have the credibility and durability of Hudson Valley Lighting's manufacturing expertise behind them. The brand began as an artistic outlet for members of Hudson Valley's design team, many of whom are young designers with an edgy vision that challenges the established aesthetic of Hudson Valley. Mitzi offers this group the opportunity to explore the creative use of materials and designs without feeling restricted in any way. Mitzi's distinguishable aesthetic comes from the use of materials like concrete, marble and wire, and the unique configuration of these elements. The resulting products are more contemporary and fun in nature, though they retain the signature detailing for which Hudson Valley Lighting is known.
"Hudson Valley Lighting's fixtures define the spaces where they are placed – many are statement pieces," says David Littman, founder and CEO of Hudson Valley Lighting. "Mitzi's products enhance the spaces — they have an open and perhaps more playful feeling to them while still being manufactured to our high standards."
Central to the Mitzi brand is a focus on adaptability: many of the fixtures are designed for consumers who might not be in permanent locations or large spaces so the products are smaller in scale and require only an outlet plug rather than professional installation. The collection also contains a large selection of portables designed for frequent movers.
With the introduction of Mitzi, Hudson Valley Lighting is now able to produce and provide products to a new demographic of customers, and David Littman and the team at Hudson Valley Lighting have high hopes for the new brand. This collection, while seemingly designed for a slightly younger demographic is also designed to appeal to anyone passionate about elevating their space regardless of budgets or whether their home is a rental, condo or house. The collections are manufactured with the same attention to detail as all Hudson Valley Lighting products, which means that details remain paramount. The design team at Hudson Valley Lighting refers to Mitzi as "attainable high design."
Where did Hudson Valley Lighting's design team come up with the name Mitzi? Mitzi is inspired by the founder of Hudson Valley Lighting's grandmother, a painter and master antique-finder. David Littman thinks his grandmother would be proud.
About Mitzi
An offshoot of Hudson Valley Lighting®, the Mitzi collection was initially begun as a creative outlet for Hudson Valley's young design team who were interested in exploring creative uses of materials and designs that were outside of the aesthetic of Hudson Valley's core products. This new collection is designed for anyone passionate about enhancing their space regardless of size or income. Using Hudson Valley Lighting's manufacturing expertise, the team is able to keep the costs of the Mitzi collections reasonably priced without sacrificing any of the quality that is a hallmark of Hudson Valley Lighting. With the launch of Mitzi, Hudson Valley Lighting is now able to extend their reach into additional markets and price tiers that previously were not a part of their business model.
About Hudson Valley Lighting
Since 1985, Hudson Valley Lighting® has been producing distinctive products of outstanding quality and value for residential and contract settings. From the brand's New York-based headquarters, an in-house team creates unique and original fixture designs, spanning in style from historic to artisan, transitional to contemporary. Brand hallmarks include exquisite detailing, fine finishes, hand-forged metals and strong craftsmanship. From a variety of pendants, chandeliers, sconces, bath bars and flush mounts, to portable floor and table lamps, designers, specifiers and consumers are assured of extensive, top quality options. With more than 150 collections in its catalog available throughout North America through dealers and showrooms, Hudson Valley Lighting retains an impressive library of products to suit virtually any residential, commercial or hospitality project. In 2017, Hudson Valley Lighting introduced an off-shoot brand named Mitzi. Mitzi's more contemporary and pared down aesthetic and price structure enables Hudson Valley Lighting to reach a new tier of consumers. For more information on the brand and its products, visit: http://www.hudsonvalleylighting.com
For additional information, contact DRS and Associates at 818.981.8210 or http://www.drsandassociates.com.