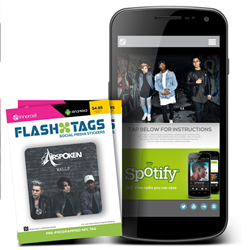 Tap your phone to Innercell's smart merchandise to access free music, games, videos and more.
Los Angeles, CA (PRWEB) July 06, 2017
News from Apple's June 5 Worldwide Developers Conference has prompted new tech innovator Innercell to expand its platform, allowing popular artists and record labels to release multimedia content on a wide range of branded merchandise.
Innercell's network already allowed fans to access music, videos and other digital content using Android smartphones. Apple's move to enable iPhones and Apple Watch devices to access the NFC technology will greatly expand the consumer base, leading Innercell to broaden the range of merchandise that provides access to artists' messaging. T-shirts, stickers, caps, and key chains are among the many branded products that can deliver targeted digital content.
The Innercell platform works on any NFC-enabled device with no need to download a phone app. When the consumer waves a phone near Innercell-embedded merchandise, the content launches instantly, allowing artists and labels to send targeted messaging to their most engaged fans.
Rising California pop group Airspoken is among the recording acts embracing Innercell, offering t-shirts, stickers and other embedded merchandise that depicts members Anthony Vazquez, Justin Bernardez and Eli Mayfield. Products are sold through the band's website (airspoken.com) and through Innercell affiliate FlashTags.com.
Labeling on the shirts instruct the wearer to 'tap' the left sleeve with an NFC-enabled smart phone to activate videos, music and other smart content embedded within the garment. FlashTag sticker packs offer consumers a similar experience.
At a special event hosted by Gameworks in Ontario, CA, Airspoken demonstrated how Innercell's technology works to the hundreds of fans who crowded into the venue for the band's appearance.
"A special tag embedded within the left sleeve serves as a hot spot," Bernardez explained. "Place your mobile phone next to the tag and 'Boom Shaka Laka Laka,' a short video, begins telling our story with a link to an instant music stream from Spotify."
"This technology is seriously game changing," Mayfield added.
Aside from Airspoken, Innercell has also been endorsed by rap artist Cold 187um, front man of noted rap group Above The Law, and by singer/songwriters Jessica Byrd and Mona Nijab.
With Innercell's patented technology, consumers have smart-phone access to a large variety of digital content beyond music and entertainment. Innercell allows manufacturers to encode instructions and warranty info within the plastic enclosures of small appliances. Beverage companies can include games on their product labels and toy companies can embed critical safety information directly within the products they sell.
The Innercell system utilizes Near Field Communication (NFC), the same technology that facilitates retail payments via smart phone, such as Android Pay and Apple Pay. But, unlike payments systems, Innercell does not require users to purchase an app or download special software to access the content. Innercell's service functions automatically and for free through the pre-installed mobile browsers built into most modern smart phones.
"Important and urgently necessary" is how Innercell founder and CEO Dan Jordan describes this technology. "Information critical to the use and function of a product should never be lost or thrown away. With Innercell, product instructions and recall information can be permanently connected to the products they serve," Jordan says. "A product and its information never need to be separated."
While the entertainment messaging enabled through t-shirts, stickers, wristbands and other fan merchandise illustrates one possible implementation, Jordan says the technology's potential is far greater.
"The future of this technology is in allowing companies to embed anti-counterfeiting systems, manuals, safety data and warranty cards directly on the products themselves, never to be lost or misplaced again."
The company acknowledges NFC technology is still in an infancy stage with minimal awareness, but as well-known recording artists begin to benefit from it and talk about Innercell products, consumers are slowly becoming aware. Jordan expects NFC to grow rapidly over the next several years and that the technology will dramatically enhance customer experiences and customer service.
###
About Innercell
Innercell, headquartered in Los Angeles, has developed a number of retail applications for Near Field Communication (NFC) and other proximity-based mobile technologies. Innercell's patent-pending technology gives brands the ability to engage with consumers, protect against counterfeits and deliver safety and recall information directly through the products themselves.
For more information about Innercell or parent company, Twych Innovation, call 818-527-2127 or visit Innercell on the web at innercell.net.