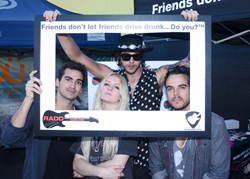 Friends don't let friends drive drunk…Do you?
Los Angeles, CA (PRWEB) June 30, 2017
As we celebrate our nation's independence this 4th of July, RADD® -- The Entertainment Industry's Voice For Road Safety -- wants to remind everyone to celebrate responsibly and plan ahead with a designated driver, ride share, Uber, Lyft or taxi. This year, thousands of families will take to their cars to drive to cookouts, picnics, BBQ's and other summer festivities. Sadly, some will end in tragedy through irresponsible behavior and poor choices, which will have a lasting effect on their families.
The 4th Of July is one of the deadliest holidays, with an increase in DUI arrests, crashes and fatalities associated with impaired driving. 46 percent of the young drivers age 18 – 34 killed in motor vehicle traffic crashes were alcohol impaired. The rate of alcohol impairment among drivers involved in fatal crashes is three times higher at night than during the day. From 2011 to 2015, there were 751 people killed in drunk-driving crashes alone over the 4th holiday periods, with scores more impaired by medications, illegal drugs and marijuana.
RADD® aims to decrease and eliminate this statistic. Its College DUI Awareness campaign, currently on 44 college campuses backed by a $835,000 grant from the California Office Of Traffic Safety, has partnered with emerging music talent to relay its peer-to-peer message in an organic and authentic manner. Drinking and driving is not an option.
It's time to plan ahead. Because Friends don't let friends drive drunk…Do you?
Check out RADD® PSA's here:
The Soft White Sixties
https://www.youtube.com/watch?v=AzLryyh_QZ4
Hollis Brown
https://youtu.be/001-LJ6Ekoo
Love And The Zealous
https://www.youtube.com/watch?v=aoZxUppH0CU
Nate Ruess - fun.
https://www.youtube.com/watch?v=SKI_zvf3KhA
About RADD®
RADD® - The Entertainment Industry's Voice For Road Safety, is an internationally recognized non-profit organization that empowers media partners, celebrities and socially conscious supporters to create positive attitudes about road safety and to promote risk-intervention strategies to avoid driving impaired. Incorporated in 1986 as a 501 (c3) non-profit, RADD produced the iconic "Friends Don't Let Friends Drive Drunk" celebrity campaign and is a proud two-time recipient of the U.S. Department of Transportation's prestigious Public Service Award and a Governors Highway Safety Association honoree. Additionally, RADD® is the recipient of a 2016 Bulldog Not-For-Profit Awards bronze medal for "Best Issue/Cause Advocacy Campaign
For more info on RADD® please see http://www.CollegeIsRadd.org.
Contact: Karen Sundell Lori Lousararian-Hakola
310/854-8167 310/854-8104
ksundell(at)rogersandcowan(dot)com llousararian(at)rogerandcowan(dot)com