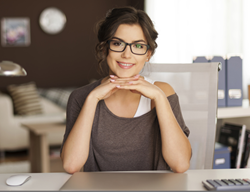 "We are proud to announce that WAHspace is now 10,000 plus members and growing every day."
Boca Raton, FL (PRWEB) June 30, 2017
WAHspace, the world's only Work-At-Home online network and job board that both credentials companies that hire at-home workers and connects them with WAHspace certified individuals (think LinkedIn for the Work-At-Home community) announced today that it has reached the milestone of more than 10,000 members.
WAHspace members are individuals and companies across the United States and Canada who are actively looking to employ, or seeking employment, in the Work-At-Home industry. WAHspace enables members, both individuals and companies, to create profiles and "connections" to each other in an online social environment.
WAHspace individual members achieve WAH Certification following successful completion of online learning and testing modules that assess multiple skills and personality fit for working at home. One unique WAHspace benefit allows members to enhance their profile and their credibility by initiating a WAHspace independent background check. The combination of individual certification and background checks provides member companies with a quick, friction-less way to immediately meet their need for qualified At-Home workers.
"We are proud to announce that WAHspace is now over 10,000 members and growing every day," said WAHspace CEO Sarah Lucas. "Companies and individuals all around the country are realizing the benefits of joining WAHspace. Individuals earn their WAH Certification and enhance their employment opportunities, while companies quickly meet their hiring needs."
In addition to over 10,000 individual members, WAHspace Certified Company members represent over 50,000 workers. The WAH Certified company credential is available to qualified companies that offer Work-At-Home opportunities. Through this program, companies are able to join the WAHspace online community and connect with the pre-screened WAHspace talent pool. Qualified companies must be in business for a minimum of two years, pay a living wage to workers, and have a favorable reputation in various online review forums. WAH Certification allows companies to post an unlimited number of at-home job opportunities on WAHspace.com.
"The WAH Certified company credential is well on its way to becoming an industry standard for companies that offer Work-At-Home opportunities," said WAHspace CEO, Sarah Lucas. "As the growth in At-Home employment continues, more and more companies look to differentiate themselves in order to attract and retain both clients and talented Work-At-Home professionals."
For more information about WAHspace and to find out how to become a WAH Certified Individual or Company visit: http://www.WAHspace.com.
About WAHspace:
WAHspace is the world's largest online work at home platform connecting and credentialing employers with job seekers.  People join WAHspace as a member to connect with other people that work at home, gain valuable skills, and find jobs. Companies save time and money connecting with thousands of pre-screened applicants who are: certified for competency and personality; skills based typing checked; skills based systems checked; background checked; and more.  WAH Certified Companies are able to post unlimited job opportunities, customize and manage their company profile and connect directly with job seekers that are seeking credible opportunities.  Creating a basic member profile is free for those that are looking for jobs and premier membership comes with free member technical support.