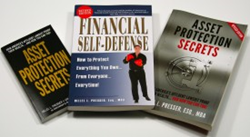 For every 60 minutes you spend making money, spend 60 seconds thinking about how to protect it!
Boca Raton, Florida (PRWEB) June 29, 2017
It is extremely important to understand how fraudulent transfer laws affect the ability to protect assets. The best Asset Protection strategy is being proactive. However, the laws are not black and white. Specifically, not every transfer (when creditors exist) is considered fraudulent. The facts and circumstances of each individual's particular situation must be considered when determining whether a conveyance is fraudulent. An experienced Asset Protection attorney can help individuals understand fraudulent conveyance laws and determine the best decision to make with regard to protecting assets. Hillel L. Presser, Esq., MBA of the Presser Law Firm, P.A. offers tips for navigating the fraudulent transfer laws.
1. Defining Fraudulent Transfer
A fraudulent transfer (also known as a "fraudulent conveyance") is an attempt by a debtor to avoid debt by transferring money or other assets own by them to another person or company. Fraudulent transfer is generally a civil cause of action and such cause of action typically arises in debtor/creditor relationship. Each state has its own set of fraudulent transfer laws, however, the concept is generally uniform.
2. Asset Protection Defined
Asset Protection is the legal process of titling personal and business assets to put them beyond the reach of future potential threats and creditors using domestic and international Asset Protection strategies. The Asset Protection plans usually begin with a foundation, which typically includes domestic Asset Protection tools. Those individuals who want additional protection will likely need to consider international Asset Protection planning, in addition to their domestic Asset Protection planning.
3. Understand why Proactive Asset Protection Planning is Crucial
Planning before creditor judgments is crucial in order to avoid the risk of having the creditor allege a fraudulent transfer. A debt or potential liability does not automatically mean that an individual cannot transfer or sell their property. In order to assert fraudulent transfer, there must be a civil judgment affecting the assets that were transferred and intent by the debtor to either conceal the transfer and/or hinder the creditor's ability to collect on the judgment. This is, of course, by it is always better to plan proactively.
4. Learn about the Consequences of not Planning Proactively
If a debtor fails to adhere to the fraudulent conveyance laws, then they put themselves at risk of a civil penalty and potential reversal of the transfer they made. For instance, Florida law gives courts significant authority undo fraudulent Asset Protection planning. Accordingly, fraudulent transfers may be undone and reversed pursuant to a court order. In this case, the court would order that the property is put back in the hands of the debtor (which will become subject to the creditor collection process). Whether or not a transfer is fraudulent depends on a variety of circumstances that only a knowledgeable Asset Protection attorney would know. Therefore, it is best to obtain a consultation with an Asset Protection attorney to determine exactly what options are available.
The Presser Law Firm P.A., Asset Protection Attorneys, represents individuals and businesses in connection with the establishment of comprehensive Asset Protection plans that incorporate both domestic and international components.
Visit the Law Firm's Visit the Law Firm's website (http://www.AssetProtectionAttorneys.com) for access to educational material on asset protection, business law, estate planning, and probate including webinars, articles and detailed legal explanations.
Contact The Presser Law Firm, P.A., Asset Protection Attorneys for a Complimentary Preliminary Consultation with one of our attorneys or to receive complimentary copies of our latest best-selling books on Asset Protection.
"For every 60 minutes you spend making money, spend 60 seconds thinking about how to protect it!" states attorney Hillel L. Presser, Esq., MBA regarding the importance of protecting your assets proactively.