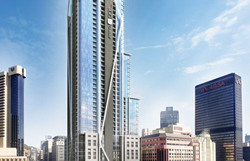 Atlanta, Georgia (PRWEB) June 15, 2017
Wealth Migrate, an online real estate investment marketplace, announces the global opening of its #LikeAMillionaire luxury condo give-a-way. The competition, which is open to all new users who sign up on the WealthMigrate.com platform, is another example of how Wealth Migrate is putting quality real estate within reach of middle class investors throughout the globe, who typically do not have access to these types of deals.
The condo, valued at over $200,000 USD, will be located in Cape Town, South Africa's hottest new, Zero-2-One Tower development, which will stand as the tallest building in Cape Town, one of the most sort-after cities in the world.
While the contest has been open to South African residents for the past month, it was recently opened to a global audience to reflect the truly global nature of the Wealth Migrate marketplace. Wealth Migrate which was recently voted one of KPMG's top 50 global FinTech companies, has users from over 92 countries and investments from 4 continents  on their real estate investment marketplace.
"The mission of Wealth Migrate is to help investors from all over the world have access to high quality real estate investments in developed markets," say Scott Picken CEO of Wealth Migrate. "While our marketplace allows investors to access these investment offerings for as little as $1,000, we wanted to take our commitment to giving everyone an opportunity to own quality real estate a step further by giving away a unit, in what will be the most iconic piece of real estate in Cape Town, South Africa."
Cape Town has consistently been rated as one of the top ten international travel destinations in the world by numerous publications.
The Zero-2-One Tower, standing 42 stories tall, is set to be the tallest building in Cape Town upon completion in 2020. The competition is open to all new users on the platform. By signing up at WealthMigrate.com new users are automatically entered into the drawing for the Zero-2-One condo prize. Also for every friend who you refer and they sign up as a user you will get an extra chance in the draw. Picken says, "People ask me what is the catch? I give them a simple answer that Uber gave out free rides with coupons so that when people tried the service they realized how much better it was than the traditional taxis. We feel the same way about online real estate investing. All we want to do is for people to experience the future of real estate investing."
With a global team of real estate partners and market experts spread across its USA, China, UK and Australian offices, Wealth Migrate is one of the only global investment platforms to offer users direct investment opportunities in currency stable real estate markets from around the world.
About Wealth Migrate
Wealthmigrate.com is a leading global online investment marketplace that offers international investors direct access to exclusive real estate investment opportunities in the premier world markets, including the USA, Australia, the UK and South Africa. Wealth Migrate was founded in 2010 by renowned global Fintech & real estate investors Scott Picken and Hennie Bezuidenhoudt. Wealth Migrate partners with best-in-class developers and real estate investment companies, giving investors access to premier real estate opportunities with experienced, on-the-ground partners. For more information, go to http://www.wealthmigrate.com. Terms and conditions apply.