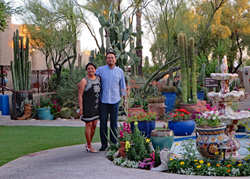 Burlington, VT (PRWEB) July 27, 2017
Susan Rand, owner and founder of Sojourn Bicycling and Active Vacations, announced the acquisition of this leading North American active travel company by fellow Vermonters, Raja and Bibi Mukherjee.
Founded in 2004, Sojourn Bicycling and Active Vacations is an award-winning company specializing in exceptional active vacations in extraordinary destinations throughout the United States and Canada. The Vermont-based company currently offers nearly two dozen boutique active vacations and has garnered accolades from Condé Nast Traveler, Forbes, Frommer's, and Fodor's.
Former Sojourn founder and president, Susan Rand, says, "I am very pleased that Bibi and Raja have acquired Sojourn and am confident that the business will continue to thrive under their leadership. Bibi has worked closely with me for the past eight years in marketing Sojourn and Raja has extensive management experience at a company previously owned by a good friend of mine. They are both bright and hard-working and will bring exciting opportunities for sustaining and growing the brand. I look forward to working closely with them through the next 18 months as I transition out of the company in order to spend more time with family and pursuing other interests."
"Our primary motivation to acquire Sojourn was to work in a lifestyle business that embodies our passion. We look forward to continuing the high level of quality in personalized service and incomparable destinations alongside a world class team," said Raja. "After exploring options, we went on Sojourn's Arizona bicycling trip in March and that helped to solidify our decision to acquire this company. We were blown away by the experience. No wonder it won accolades from Outside Magazine as a 'Life List Worthy Tour,' indeed it was for us."
The Mukherjees, active world travelers themselves, are also experienced entrepreneurs.
Bibi founded and owns Curve Trends, a leading regional digital marketing agency, that has worked with Sojourn for close to a decade now. Her experience marketing active vacations include a stint with an active travel company earlier in her career. She will lead the marketing efforts for Sojourn while continuing to manage Curve Trends.
Raja led a national software technology company for more than a decade before making the decision to merge his passion with his profession. An active cyclist and golfer, with a passion for wine and cooking, Raja will serve as Sojourn's president.
"Working with Sojourn through Curve Trends was a privilege that offered an opportunity to extend my expertise in this industry," said Bibi Mukherjee. "Raja and I look forward to continuing Sojourn's excellence in destination discovery and exceeding every guest's expectation."
When not traveling, they can be found at home in South Burlington, where they raised their 21-year-old daughter and currently live with their two golden retrievers.
For more information: (802) 425-4771 | info(at)GoSojourn(dot)com | http://www.GoSojourn.com