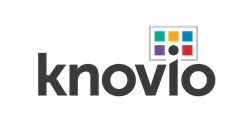 It's time for online video platforms to raise their game to go beyond simple video uploading, hosting, and sharing, and Knovio 3.0 does just that.
Lincoln, Massachusetts (PRWEB) June 29, 2017
KnowledgeVision Systems, the leader in smart media platform technology, has announced the immediate availability of a major update to Knovio, its cloud-based online video platform. Knovio 3.0 dramatically expands the capabilities of an online media platform that's already used by more than 235,000 registered users in more than 2,000 companies and campuses on six continents.
Knovio supports a comprehensive set of online video formats, from simple drag-and-drop video hosting and streaming to rich, interactive video-enhanced online presentations with embedded assessments. All Knovio-based videos are played through responsive, HTML5-based smart players, viewable in any web browser or mobile device without special plug-ins or apps. Knovio videos can be embedded in websites, shared through social media, and posted into third-party systems like CRM's, marketing automation, sales enablement platforms, and learning management systems.
New Features in Knovio 3.0
The Knovio 3.0 update includes:
-- New smart media players for adaptive-bitrate video streaming and presentation "flip decks";
-- New workflows for creating trackable online video content from video and presentation files;
-- New collaboration tools for inviting others into the video creation process;
-- New showcase building tools for creating, sharing, and tracking instant video collections and microsites;
-- New comprehensive dashboards that reveal insights from a patented system for tracking, engagement scoring, and connections to third-party systems; and
-- An entirely new user experience that features smart file type detection for uploaded media, suggesting all the next steps a user might take with an uploaded file.
"It's time for online video platforms to raise their game to go beyond simple video uploading, hosting, and sharing, and Knovio 3.0 does just that," said KnowledgeVision CEO Michael Kolowich. "Video creation, collaboration, advanced analytics, and video microsites are all essential to feed the continued rapid adoption and growth of business video. Our heritage in smart media players and video analytics offers us unique advantages in bringing these advanced capabilities to the business video market."
Seven Knovio Editions
Knovio offers a range of editions to meet the needs of every type of video user:
-- Knovio Enterprise Edition, for company-wide video platform deployments;
-- Knovio Corporate Edition, for workgroups, departments, and teams;
-- Knovio Suite, which gives the full range of Knovio's tools to power communicators;
-- Knovio Gold, for educators and trainers who want to build learning video assets;
-- Knovio Pro, an entry-level product for individual business professionals;
-- Knovio Student Edition, which places many pro features in the hands of students;
-- Knovio Lite, a limited free product for creating simple video and online presentations.
Evaluation and review accounts are available for analysts and media, along with a downloadable evaluation guide, by visiting http://www.knovio.com/media.
Additional Resources:
-- Video: Knovio Overview
-- Video: What's New in Knovio 3.0
-- Knovio Interactive Demo
About KnowledgeVision
KnowledgeVision is the leader in smart media creation and hosting technology. Its Knovio online video platform is used by more than 235,000 people worldwide in more than 2,000 companies and campuses to create, host, share, organize, collaborate around, and measure online media content.
Founded in 2010 by a team of online media pioneers led by ZDNet Founder Michael Kolowich, KnowledgeVision is backed by GrandBanks Capital, Rand Capital, and a group of individual investors who believe in the company's mission to bring smarter video content to every business, organization, and educational institution.