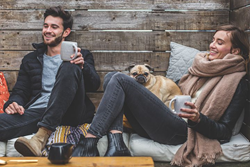 After Joining Thrive90s Program, Jan and I grew in our relationship.
SAN DIEGO, CA (PRWEB) July 01, 2017
Shifting priorities after marriage and children can often put health low on the average person's priority list. However, taking care of others no longer has to mean packing on extra, unhealthy pounds that only cause couples to drift further apart. Thrive 90's innovative new approach to getting in shape makes it possible for parents to take care of their families without losing sight of their own self-confidence and drive.
Too many parents of young children are hanging on to unused gym memberships that do nothing but suck money from their bank accounts month after month. Even many of the most dedicated and passionate athletes have trouble finding the time to hit the gym once they've had children. This fitness dilemma is solved with the new and different fitness program that is Thrive 90. Every workout in the Thrive 90 program can be completed in under 30 minutes, at home, and most importantly, as a couple.
Working out together is a thing of the past for the majority of young parents because of the need for childcare in order to make it happen. So many married couples say that they feel like best friends – and who better to workout with? Spouses can spend time together at home, getting into the best shape of their lives, without worrying about hiring a babysitter.
Thrive 90 makes it simple for couples to make fitness part of their lives again, bringing them closer emotionally as well as physically. Client testimonials rave about the ease of being able to get in a substantial workout again, from the comfort of home. Satisfied customers also point to Thrive 90's weekly coaching emails, workout calendar and nutrition guide as excellent resources that made a big difference in their fitness results.
About: Thrive 90 Fitness™ is a service offered by Fit Marriage that encourages and enables couples to get fit together. Getting in shape with Thrive 90 also renews energy, re-energizes passion, boosts self-confidence and clarifies the mind, all from the comfort of home, where couples can exercise with and encourage each other.