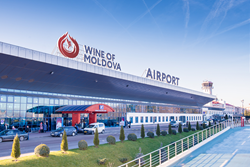 The new name sends an attractive message to tourists and international community: "Welcome to Moldova – a country of wine!"
Chisinau, Republic of Moldova (PRWEB) June 30, 2017
Chisinau International Airport could be renamed "Wine of Moldova Airport"! Moldovans have voted for a new name for the country capital airport, choosing from a dozen of options.
Many of the participants to an online survey believe that the national wine brand "Wine of Moldova" deserves to be on the Airport facade and that it sends an attractive message to tourists and international community: "Welcome to Moldova – a country of wine!"
"Wine of Moldova" outran all the other options, amongst which were remarkable names of Moldovan Culture, such as Eugen Doga, whose "My Sweet and Tender Beast" was included by UNESCO in the top music masterpieces of the 20th century, the only woman-pilot in Moldova Olga Culic and the fiction fairy-tale characters Pacala and Tandala, as well as other historical and symbolic personalities for this country.
The survey was launched by the youth news portal diez.md, driven by the idea of finding an original and recognizable name for the only international airport in the country. Over 8000 voters participated in the survey.
The country wine brand "Wine of Moldova. A Legend Alive" was created by the entire Moldovan wine industry in 2013, to ensure the unification of the voices promoting Moldovan wine on international markets as well as to build and develop the domestic market.
#wineairport
Links:
"Wine of Moldova" Facebook page: https://www.facebook.com/wineofmoldova/
"Wine of Moldova" Twitter: https://twitter.com/WineofMoldova
Source article: http://www.moldova.org/en/first-wine-airport-world-moldova/