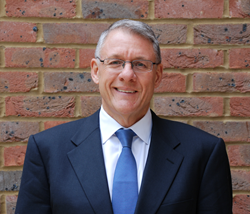 TradeIX is a game changer in the trade finance ecosystem.
LONDON (PRWEB) June 29, 2017
Operating the first open blockchain platform focusing on trade finance, TradeIX has appointed Daniel Cotti as its Chief Financial Officer (CFO). The London-based company with operations in Europe and the US, rewires the global trade finance ecosystem. This has a key effect on how corporates conduct trade as well as financial institutions and B2B networks manage and finance global supply chains.
Rob Barnes, CEO of TradeIX, comments: "We are delighted to have Dani onboard. It comes at a crucial time for the company as we are expanding massively our operations and relationships with our bank clients. Dani is a very experienced banker with an impressive track record in trade finance and a great network around the globe. Throughout his career, he has proven himself as a leader, possessing strong banking relationships with particular expertise in financial technology innovation and trade finance."
Before joining TradeIX, Daniel was the Head of European Trade Finance at Citibank and Global Head of Trade Finance and Transaction Products at ABN AMRO/RBS. Subsequently, as Global Head of Trade at J.P. Morgan he managed and build out the Global Trade Finance business for the bank. In 2015, he founded Cotti Trade & Treasury, a consultancy firm for global trade finance.  Currently, he acts also as non-Executive Chairman of the Board of Bolero Intl. Ltd, a global provider in the handling of electronic trade finance documentation and automatic settlement.
"TradeIX commitment to provide the most connected, innovative and secure platform infrastructure for corporates, banks, asset managers and B2B networks and the vast experience of the management team with its complementary skill sets give me the confidence that TradeIX is a game changer in the trade finance ecosystem," says Daniel Cotti, CFO of TradeIX. "The API-driven platform provides the trade finance ecosystem with a smarter, better connected and more secure way for facilitating the movement of goods, assets, money and credit around the world and establishes the single source of truth on blockchain."
About TradeIX
TradeIX is rewiring the $8 trillion trade finance market with the TIX Platform, the first open blockchain platform for trade finance. The TIX Platform enables trade finance parties to more easily, flexibly and efficiently connect to the broader trade finance market, including suppliers, buyers, service providers, B2B networks, credit underwriters and financial institutions. The platform provides benefits to all trade finance parties through enhanced funding opportunities, lower cost and reduced risk. For more information visit: http://www.tradeix.com.