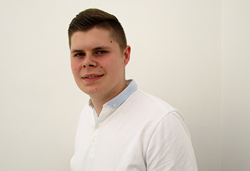 We are delighted to welcome Reece to the Haag-Streit UK family. Reece was the ideal candidate for this role due to his previous experience and his energy and enthusiasm will be an asset to the team.
Harlow, Essex (PRWEB UK) 29 June 2017
Haag-Streit UK (HS-UK), the leading manufacturer and distributor of gold-standard optometry and ophthalmic equipment, is pleased to announce the appointment of Reece Boughtwood in the role of Customer Services Co-ordinator.
Reece will be responsible for dealing with HS-UK orders, enquiries and quotations as well as providing customers with technical information on HS-UK products.
Reece has previously held a variety of customer-facing roles which involved liaising with clients over the telephone, dealing with enquiries and completing administrative tasks. He has also recently completed a 2-year extended Diploma in Business.
Dave Margetts, Customer Service Manager, said, "We are delighted to welcome Reece to the Haag-Streit UK family. Reece was the ideal candidate for this role due to his previous experience and his energy and enthusiasm will be an asset to the team."
Speaking about his appointment, Reece said, "I am really excited to start my new role at HS-UK. I feel lucky to be part of a fantastic team and I'm looking forward to the challenges that this busy role will bring."
For more information on Reece's appointment, please call Haag-Streit UK on (01279) 883807 or email info(at)haag-streit-uk.com