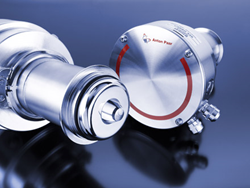 "We believe this new technology will change the way people think about inline CO2 measurement, and we anticipate this will become the new standard in the beverage market." Joe Harris, Sales and Marketing Director, Process Instruments
Ashland, Virginia (PRWEB) June 30, 2017
The Carbo 520 is a new process CO2 sensor which easily installs directly inline and is completely maintenance free. The robust, hygienic sensor provides linear, drift-free CO2 readings over the entire measurement range. The basis of this breakthrough: A cutting-edge optical measuring principle called ATR.
The Carbo 520 Optical measures CO2 concentration based on the spectroscopic approach of Attenuated Total Reflection (ATR), so the only "motion" in the system is the passing of infrared light through a crystal. Due to this new measuring principle, no wear and tear, no carrier gas, no external air, and no consumables are required. The sensor simply needs a 24V DC power supply and it's ready to deliver accurate results.
Another essential benefit of the sensor's optical measuring principle is that users can count on uninfluenced CO2 results. Since the sensor measures specific wavelengths of light absorbed by CO2 molecules only, the measurement is highly selective and not affected by other gases in the sample. Also, since the measurement is performed at the surface layer of a sample, its individual color or turbidity is irrelevant to the measured results. In addition, the Carbo 520 results are independent of the measured beverages' solubility and sugar composition, so no beverage type differences need to be considered.
These characteristics together with the system's high measurement speed and energy efficiency considerably reduce operating costs and ensure smooth production runs. For intelligent operation in any location that best serves the operator, different versions of Carbo 520 Optical are available: It can be combined with an mPDS 5 evaluation unit, an operating terminal or a remote operating terminal placed up to 250 meters away from the sensor.
Carbo 520 Optical is a truly "fit-and-forget" system that provides linear, drift-free CO2 readings over the entire measurement range from 0 to 6 Vol. – and leads to a new kind of certainty in CO2 monitoring throughout the beverage production process.