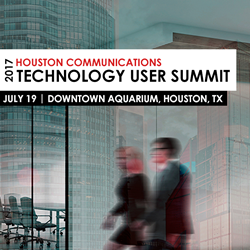 We're very proud to launch our innovative and exciting technology user summit for customers.
Houston, Texas (PRWEB) July 05, 2017
Established in 1992, the Houston Communications (HCI) family business has consistently adapted to new technology. Custom built for current clients, the summit will expertly display the latest in state-of-the-art communications as well high-tech security products and smart solutions. While the aim is to keep the inaugural event exclusive, the scale of the technology user summit will be stepped up when it opens up to the general public next year.
"We're very proud to launch our innovative and exciting technology user summit for our customers. We're aiming to make this a major feature on the annual communications calendar as we'll open it up to the public," expressed, Keir Johnson, President, Houston Communications, Inc. "Over the past 25 years, our amazing customers in Houston as well as across the U.S. and overseas have been the heartbeat of our business. Technology is the language we speak and we always love sharing our knowledge with a wider audience."
"Houston Communications was founded because my father had the vision to see an opportunity to buy an electronics company and later followed his gut when he diversified into the communications industry. Today, our highly skilled team of professionals help customers from across the United States and beyond. I believe what has helped us to thrive over the past quarter of a century is having a standard of service proven to be the best in the market. Here, we approach every sale and service situation as if we are consultants - not just salespeople. We vow to continue this trend." As though his future role as President had already been set in stone, in 1993, just a year after the launch of Houston Communications, Keir Johnson earned a Degree in Business Management from the University of Houston.
Companies who will have booths and will heavily interact with customers at the 2017 Houston Communications Technology User Summit include top names like Motorola Solutions, Avtec, Pulsar360, TRBOnet, Teldio, pdvWireless, and SmartPTT. As part of the Technology User Summit, Houston Communications will be making a donation to the Justin J. Watt Foundation registered non-profit organization which helps middle schools in Texas and Wisconsin with after-school athletic programs.
About Houston Communications:
Since 1992, Houston Communications, Inc. has been providing world-class technological network solutions to businesses. While technology has changed rapidly over time, Houston Communications (HCI) continues to build solid communication platforms that help businesses to thrive. We are proud to be a Motorola Solutions Radio Solutions Channel Partner. We have won the Pinnacle Award of Achievement 11 times and won the Vertex Dealer of the Year Award. With excellence in customer service in mind, we are an A+ Accredited Business with the Better Business Bureau (BBB) non-profit organization. Inspect: https://www.bbb.org/houston/business-reviews/telecommunication-equipment-and-systems-service-and-repair/houston-communications-inc-in-sugar-land-tx-90009689 We also take our Corporate Responsibility seriously. As we celebrate 25 years in business, explore the future of communications and security solutions today by visiting our website: http://www.houstoncommunications.com