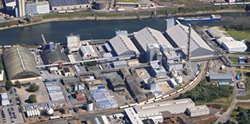 LONDON (PRWEB) June 29, 2017
XIO Group, a London headquartered global alternative investments firm with more than USD$3.2 billion of committed capital, today announced that its portfolio company, COMPO Expert GmbH, has completed the modernization of its Krefeld, Germany production facility for slow-release fertilizers and is now at 100% production levels.
Since 2013, approximately €65 million has been invested in the reconstruction and development of the site, making it now a state-of-the-art facility that is the most advanced in the world. The factory and the production processes have been certified and meet the highest standards according to ISO 9001 (quality), ISO 14001 (environment) and ISO 50001 (energy).
"With the completion of its ultramodern facility in Krefeld, Germany, a high-quality product range and a strong team, COMPO Expert is well-positioned to further benefit from global growth markets, especially in Asia and Latin America," said Joseph Pacini, Chief Executive Officer and Partner of XIO Group.
Within the updated plant, the Compo Expert Research & Development Technical Center is also located. This Center, which is now reaching its one year anniversary, has been essential for the improvement of product quality and optimization of the production process. This unique laboratory allows for the development and preparation of product prototypes in small scales to be used in agricultural field and greenhouse studies pre-production.
Carsten Geyer, XIO Group Partner, stated,"COMPO Expert's state-of-the-art technology and R&D center allows it to affirm its leadership position in the industry."
About COMPO Expert GmbH
COMPO Expert GmbH is the largest specialty fertilizer company in Europe and offers a broad range of high-quality, innovative special fertilizers for professional users. Its product range encompasses innovative slow-release fertilizers, special mineral fertilizers, coated fertilizers, nutrient salts, liquid fertilizers, trace nutrients as well as soil improvers and plant care products. COMPO Expert offers a broad range of high-quality, innovative special fertilizers for professional users. The Company holds a leading position in Europe and has over the past years advanced its geographical expansion into new countries in Latin and South America and opened its own hub in Asia. COMPO Expert is a portfolio company of XIO Group, a global alternative investments and private equity firm headquartered in London, and is led by its four founders: Athene Li, Joseph Pacini, Murphy Qiao and Carsten Geyer. The company employs approximately 500 people worldwide. For more information, visit: http://www.compo-expert.com.
About XIO Group
Headquartered in London, XIO Group is a global alternative investments and private equity firm with more than $3.2 billion of committed capital, and employs an international team of more than 70 professionals. Representing more than 15 nationalities among its employees and its network of advisors, the firm has operations in the United Kingdom, Germany, Switzerland, Israel, Hong Kong, mainland China and the United States. With a seasoned international investment team that includes professionals with experience working at many of the world's leading private equity firms, XIO Group seeks to deploy its capital for global transactions. XIO Group's strategy is to identify and invest in market-leading businesses located across North America and Europe and help these companies to capitalize on untapped opportunities in fast growing markets, particularly in Asia. For more information visit: http://www.xiogroup.com