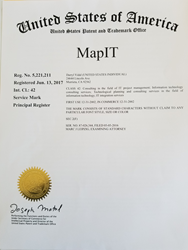 80% of technology projects fail! MAPIT® allows any IT professional to understand and implement processes to successfully plan large-scale technology programs, and then execute them successfully - Darryl Vidal
San Diego, California (PRWEB) July 05, 2017
The United States Patent and Trademark Office (USPTO) has awarded Networld Solutions' Vice President, Darryl Vidal, with a registered trademark for MAPIT® Technology Strategic Planning and Project Management methodology. MAPIT® stands for Management And Planning of Information Technology. Vidal, who has been providing enterprise technology planning and project management in Southern California for 20 years has published his successful methodology for developing technology strategic plans for large-scale enterprises such as hospitals, cities, and K-12 school districts.
The registered trademark is for "Consulting in the field of IT project management: Information Technology consulting services; Technological planning and consulting services in the field of information technology." The MAPIT® methods are comprised of two umbrella processes: Technology Strategic Planning and Project Management. The Project Management processes are also divided into Core Processes and Support Processes.
The MAPIT® methodology is modeled after industry standard project management methodologies such as the Project Management Institute's (PMI) Project Management Body of Knowledge (PMBOK), but is customized and streamlined for technology projects which are focused, yet highly complex.
Vidal states, "80% of technology projects fail! MAPIT® allows any IT professional to understand and implement processes to successfully plan large-scale technology programs, and then execute them successfully."
Vidal published a K-12 Education focused book documenting the MAPIT® technology strategic planning processes in his recent book, "FAIL TO PLAN, PLAN TO FAIL - How to Create Your School's Education Technology Strategic Plan." This book covers the five phases of technology strategic planning: Needs Identification, Needs Analysis, Recommendations, Feasibility, and Implementation. This book specifically focuses on how school districts can develop an Education Technology Strategic Plan that helps identify, budget, prioritize and implement some of the most in-demand Education technologies such as: one-to-one computing, BYOD, WIFI, and Voice-over IP. Examples and case studies relate the concepts to real-world Education Technology programs.
Vidal is currently working on the follow-up book of MAPIT® Project Planning and Project Management processes which is expected to be published in late 2017. These methods and practices are focused on tactical implementation planning, much different from strategic planning. This book will focus on Core Processes: Scope, Time, and Budgeting of technology projects, and Support processes for project control, communications and change management. All these processes are mission critical in managing the three project constraints: Scope, Time and Budget.
Darryl Vidal is author of four Education Technology focused books:

Learn more about Networld Solutions at http://www.networldsolutions.com.