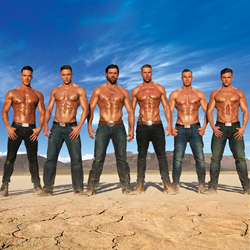 "The Perfect Girls' Night Outback!", Australia's "Thunder from Down Under!"
D'Iberville, MS (PRWEB) June 29, 2017
Billed as "The Perfect Girls' Night Outback!", Australia's "Thunder from Down Under" will be returning to perform live interactive shows at Scarlet Pearl Casino Resort on the final 2 weekends of July. "Thunder from Down Under" sold out three shows in their January appearance at Scarlet Pearl. Back by popular demand, the return shows are expected to sell out, so purchase tickets early!
"Thunder from Down Under" shows off chiseled bodies, seductive dance routines, and irresistible boy-next-door charm. Performers embody different female fantasies and bring them to life. It's not the kind of show you sit and watch – with a catwalk in the stage set-up at Scarlet Pearl, it's billed to be a fully interactive experience.
For the summer show series, Scarlet Pearl have added 'A Thunderful Week' in-between the two weekends, which offers additional opportunities to meet the Thunder Boys. On Monday, July 24th guests can enjoy specialty drinks with the Thunder Boys at the PRL Party from 7 p.m. – 9 p.m., and on Tuesday, July 25th take a dip with the Thunder Boys at the Garden Oasis Pool Party from 5 p.m. – 8 p.m. A cash bar will be available, and there will be music by DJ DukeDaGENIU$! The event is free to hotel guests, there is a $10 Pool Pass entry fee for non-guests of the hotel, which can be purchased at Scarlet's Treasures Gift Shop on the day of the Pool Party.
Guests can win a Wednesday, July 26th dinner with the Thunder Boys at Scarlet's Steaks & Seafood! Keep an eye out on Scarlet Pearl's Facebook page for details about Winner Dinner Wednesday! On July 27th, Thirsty Thursday, guests can join the Thunder Boys for specialty drinks at Butler's Bar & Lounge!
Thunder from Down Under merchandise and photo opportunities will be available to purchase. Visit Scarlet Pearl Casino Resort's social media outlets for exclusive Thunder from Down Under giveaways in the coming weeks!
"Thunder from Down Under" will perform their highly anticipated return shows on July 21, 22, 28 & 29. All shows are at 8:00 p.m. Tickets are $40 and may be purchased through Scarlet's Treasure Gift Shop inside the casino, or through the Scarlet Pearl call center at 888-752-9772, and online at http://www.scarletpearlcasino.com/entertainment-events.
No one under 21 is allowed, and the show is recommended for mature audiences only. There will be no full frontal nudity, and gentlemen are welcome at the show.
For more information on this and other exciting events and promotions, please visit http://www.scarletpearlcasino.com/.
About Scarlet Pearl Casino Resort: Scarlet Pearl Casino Resort is a privately held company based in D'Iberville, MS. The casino resort features 300 hotel rooms, a Miniature Golf Course, an event center, a luxurious pool and multiple restaurants. In addition to the non-gaming amenities, the casino is home to over 1,150 slots, 38 table games, including Blackjack, Craps and Roulette, and a 10-table Poker Room. The casino opened in D'Iberville, MS December 9, 2015.