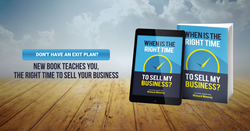 "Billions of dollars of privately-held business will change hands in the next two decades. Do it Right! Follow the process in ths timely guide,"
Punxsutawney, PA (PRWEB) July 01, 2017
Business owners frequently ask the question: When is the Right Time to Sell My Business? Or...How should I plan the exit from my business? All too often owners get incomplete answers which is why so few make the needed exit plans. This book provided expert answers in an easy to understand format...so business owners will stop hesitating and take productive actions. It shows owners how to effectively sell, or otherwise transfer ownership, at the right time, in the right way, at the right price...without regrets!
Less than 5% of business owners do the required preparation to help assure success in a planned or unplanned sale of their business. Consequently, it is essential for more business owners to focus on the type of recommendations provided in this well organized book, It is a must read for every business owner whether they are planning an ownership transfer in the next few years or decades in the future. It takes a combination of knowledge and strategically planned actions to dramatically shift the odds in favor of optimizing any business sale . It takes a systematic approach to reduce the uncertainty and lack of confident in this area that all too often overwhelm business owners. Everything in this process is important. From understanding the different ownership transfer options to consideration of the employees and the owner's family long before any sale is contemplated.
Learn more at: http://www.RichardMowrey.com