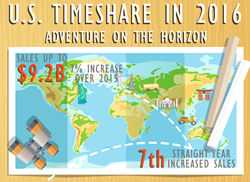 Seven straight years of growth is a testament to the strength of the vacation product we offer
Washington, D.C. (PRWEB) June 29, 2017
The U.S. timeshare industry enjoyed its seventh consecutive year of growth in 2016, according to the State of the Vacation Timeshare Industry: United States Study 2017 Edition, conducted by Ernst & Young for the ARDA International Foundation (AIF). Compared to 2015, sales volume increased by nearly seven percent and rental revenue is up by five percent.
Sales volume rose from $8.6 billion in 2015 to $9.2 billion in 2016, a nearly seven percent increase. Rental revenue increased by five percent, going from $1.8 billion in 2015 to $1.9 billion in 2016. Average occupancy was about 79 percent in 2016, compared to a 65.5 (1) percent hotel occupancy rate.
"It is amazing to see the growth in our industry," said Howard Nusbaum, President and CEO of the American Resort Development Association (ARDA). "Seven straight years of growth is a testament to the strength of the vacation product we offer. Timeshare offers more space and privacy, tremendous use-value over time, and over 5,300 resorts worldwide to choose from, coupled with the health benefits of vacationing on a regular basis, we don't see this trend stopping any time soon."
There were 1,558 timeshare resorts in the United States in 2016, representing about 206,080 units. About 70 percent of these units are two or more bedrooms and the average unit size is over 1,000 square feet.
Other interesting findings from the study include: 35 percent of resorts are now offering a mobile application to resort owners, up from just 12 percent last year. Beach resorts are the most common type of resort, with island resorts claiming the highest occupancy. Florida has the most resorts, while Nevada has the largest resorts (230 units on average).
For more details, see ARDA's infographic and for a copy of the full State of the Industry Study, visit http://www.arda.org/foundation.
(1) STR Monthly Hotel Review: December 2016, Smith Travel Research.