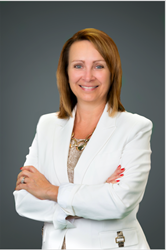 Her knowledge, leadership, and hands-on approach to meeting the needs of our clients make Patti a natural choice to become our Vice President
Downers Grove, IL (PRWEB) July 05, 2017
OVC, Inc. founder and CEO, Greg Wildman, recently announced the promotion of Patti Baron Mellott to Vice President. Baron Mellott joined the Downers Grove-based online marketing company in 2013 and most recently served as Director of Marketing and Project Management.
Upon joining OVC, Inc. four and a half years ago, Baron Mellott was instrumental in organizing and enhancing the website design process. She maintains contact with every client and maintains a leadership role throughout the course of every project.
"Her knowledge, leadership, and hands-on approach to meeting the needs of our clients make Patti a natural choice to become our Vice President," Wildman said after announcing the promotion. "We look forward to continued growth under her leadership."
Ms. Baron Mellott earned her MBA in 1994 from the Kellogg School of Management at Northwestern University, and she holds a Business Administration BS in Marketing and Finance from Marquette University. Prior to joining OVC, she worked as a marketing consultant and business coach, was the senior vice president of marketing and sales for a bank holding company in Chicago, and led her own marketing and professional coaching firm.
About OVC, Inc.:
OVC, Inc. was founded in 2008 — offering video production and website development to attorneys, and continued to grow by offering products and services that enhanced search engine optimization (SEO) results for clients' websites including legal directory partnerships and blogs. OVC, Inc. monitors the legal industry and online environment to provide cutting-edge products and services for all its clients. To learn more about the services offered by OVC, Inc., visit http://www.ovclawyermarketing.com or call 630-635-8000 to speak with a member of their team.