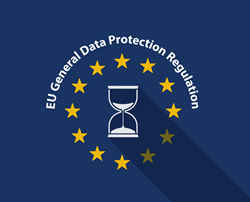 The complexity of GDPR coupled with the complexity of enterprise IT infrastructures is overwhelming.
Reston, VA (PRWEB) June 29, 2017
SyncDog, Inc., the leading ISV for mobile application containerization, today announced the issuance of its statements on the General Data Protection Regulation, or GDPR, accompanied by guidelines for compliance with the standard going into effect May 25, 2018. In sharp contrast with the relaxed or absent data security standards enforcement over the last few decades, GDPR's fines for non-compliance will be unprecedented and its scope global. Penalties will reach up to four percent of global annual revenue, capped at €20 million, with a lower-level level fine of two percent global annual revenue or €10 million, whichever is higher.
In light of GDPR's austerity, SyncDog has spent considerable time researching the standard and today released its paper titled, "GDPR will bring the Teeth that have been Missing in Data Security Auditing and Compliance" for organizations seeking to prepare their security and compliance strategies accordingly. The paper explains why GDPR will change the playing field next year for global data security, explores what the standard means for endpoint data management, and offers five tips to help covered organizations maintain compliance.
"GDPR looms closer every day, and not much is being said about the global consequences for non-compliance," said Jonas Gyllensvaan, SyncDog president and CEO. "Like most regulations, the complexity of GDPR coupled with the complexity of enterprise IT infrastructures is overwhelming. CxOs who may be scrambling for information on how to remain compliant will find many helpful answers and insights in this whitepaper."
Click here to download "GDPR will bring the Teeth that have been Missing in Data Security Auditing and Compliance."
GDPR and SyncDog SentinelSecure™
SyncDog's depth of experience in secure and functional enterprise mobility over the last 20 years is evident in its SentinelSecure™ C2 (Collaborative and Containerized) Workspace. The software's architecture has been designed to provide the security and visibility required to assist any organization's compliance initiatives with GDPR and many other data security standards.
SentinelSecure™ provides a secure application platform that encrypts and transports data between the enterprise and secure, "sandboxed" applications running on employees' mobile devices. The workspace delivers a highly functional and easy app experience for users, and protects client enterprise networks with a secure, partitioned FIPS 140-2 certified container on both iOS and Android devices. SentinelSecure™ secures data both at rest on the device and in transit using AES 256-bit encryption. A full suite of mobile-enabled productivity applications is available in the defense-grade container, including SharePoint, Enterprise Chat, Geo-location Services, DropBox, a Personal Information Management (PIM) Suite, Office Suite, Office 365, File Sync, and Secure Mobile App Management & Development functions.
Click here to download the SentinelSecure™ datasheet.
About SyncDog, Inc.
SyncDog is the leading ISV for building Containerized and Collaborative (C2) mobile IT frameworks that extend app functionality to devices while securing corporate and Government networks from mobile-endpoint threat. SyncDog's flagship solution, SentinelSecure™ delivers a rich and unimpeded mobile experience for employees working remotely, and supports a multitude of enterprise collaboration apps within a NIST-certified (FIPS 140-2 cert. #2687), C2 Workspace. The C2 Workspace is ideal for organizations that want to deliver a rich mobile app experience across BYOD, CYOD (choose your own device), or other remote device policy.
The SentinelSecure™ C2 Workspace delivers a host of applications addressing a wide footprint of enterprise workflows including:

Secure Communications
Secure File Management
Secure Internet/Intranet Access
Secure Location-Based Services
For more information on SyncDog and our products please click here.