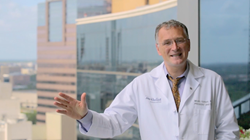 I've never seen communities come together as they do here in Texas.
Houston, TX (PRWEB) June 29, 2017
Dr. Mauro Ferrari, executive vice president of world-renowned Houston Methodist and president and CEO of the Houston Methodist Research Institute, has joined the Texas Travel Industry Association's "What I Like About Texas" campaign with a newly released video testimonial highlighting his appreciation for the state of Texas, a place he now calls home after moving here from Italy. Inspired by Gary P. Nunn's famous song of the same name, the campaign celebrates the diversity and unique spirit of Texas, encouraging travelers to experience the Lone Star State's welcoming atmosphere and its myriad of people and attractions.
 
"I've never seen communities come together as they do here in Texas," said Dr. Ferrari, who now calls Houston home. "Nobody ever asks me 'Where do you come from?' or 'What kind of accent is that?' They ask me, 'Can you roll up your sleeves and do something for everybody?' … I'll tell you one thing: The cure for cancer – the final cure for cancer – is going to come from these institutions here working together."
Adds Dr. Ferrari: "We've got people who come from so many different parts of the world and find a way to work together in harmony … they make transformational things happen to benefit everybody all over the world. That's what I like about Texas."
 
The videos, which can be viewed at http://www.whatilikeabouttexas.org, are the latest in a series of videos with notable Texans from all walks of life sharing their favorite things about the state, from food and music to their favorite destinations. The campaign also seeks narratives and visual contributions from social media users to help create an important digital history with reasons we live here, stay here or visit here.
"Texas isn't always what you expect," said TTIA President David Teel. "Most people think of cowboys before they think of Texas as a leader in medical research. That's why we're inviting people to share the unique reasons why they love this state and choose to live and work here. We hope this campaign will encourage more people to visit and do business in Texas."
In addition to TTIA, major campaign partners include Visit Houston, Visit San Antonio, Discover Denton, Port Royal Ocean Resort & Conference Center, The Arlington Convention & Visitors Bureau and Visit Lubbock.
 
About TTIA
The Texas Travel Industry Association welcomes all visitors to our great state. Visitors are our guests and they are essential to a robust and thriving Texas economy. The essence of who we are as Texans and who we are as an industry is how we treat people, especially our guests. Our industry is the trusted curator of the Texas hospitality brand and provider of the Texas hospitality experience. We are in the business of welcoming and accommodating guests and are driven by a passion to provide a Texas experience that inspires our guests to visit us the first time and to come back again and again. We believe this makes Life Better in a State of Travel for all of us. For more about TTIA, go to http://www.ttia.org.