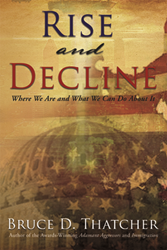 A nation begins with an idea or ideal and attendant values…As long as that idea/ideal is accepted…and attendant values are faithfully delivered by its government and agreed to by its people…the nation grows and endures.
(PRWEB) July 06, 2017
The latest addition to Thatcher's History Speaks Today (HST) project, Rise and Decline: Where We Are and What We Can Do About It, shows that the normal life cycle of a nation is determined by the degree to which its citizens accept the principles upon which it was founded — its raison d'être. According to the book, a nation's ascendance is characterized by a critical mass of citizens attuned to its founding values. Its decline, however, is grounded on the growing numbers of citizens who have become indifferent to or disdainful of the founding principles. History is clear — all nations end, including the United States. The existential question for Americans, however, is not whether we can prevent it but how long can the current generation and their descendants continue to enjoy the principles and freedoms that have made America great.
In Rise and Decline, Thatcher delves into America's raison d'être, which is liberty, as articulated in the Declaration of Independence and Constitution, and how these values are being usurped by government and eschewed or disdained by citizens. To halt the imminent demise, Thatcher believes that reaffirmation and commitment to America's founding principles will trigger the nation's renaissance and usher in a new and prolonged period of rising national prominence. This, however, will involve changes that can take years and generations to achieve.
Rise and Decline: Where We Are and What We Can Do About It aims to not only engage the readers who treasure history, it is also a must read for people who want to prolong the greatness of their nation, especially America, from ordinary citizens to politicians, professors, law makers, and others.
Bruce D. Thatcher is a former business executive. He is now retired and lives with his wife, Carol, in Texas Hill Country, north of New Braunfels.
Title: Rise and Decline: Where We Are and What We Can Do About It
Author: Bruce D. Thatcher
Genre: History, Political Science
ISBN: 978-1-365-77127-9 (sc)
ISBN: 978-1-970-02444-9 (e)
Pages: 531
Publisher: History Speaks Today
WEBSITE: http://www.historyspeakstoday.com
ABOUT THE AUTHOR: http://www.historyspeakstoday.com/Author-Bruce-Thatcher