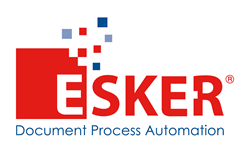 What drew us to Esker's TermSync product was its ease of use and installation.
Middleton, Wis. (PRWEB) July 11, 2017
Esker, a worldwide leader in document process automation solutions and pioneer in cloud computing, today announced that Crescent Parts & Equipment (CPE), a leading wholesale distributor in the Heating, Ventilation, Air Conditioning and Refrigeration (HVACR) industry in the greater St. Louis area, is automating its collections management processes using Esker's cloud- based solution, powered by TermSync technology.
Esker's Collections Management solution was selected over five other software vendors due to its low upfront costs, minimal IT requirements and end-to-end cloud capabilities. Solution features such as auto-payment reminder emails, customizable dashboards displaying daily task lists, and a customer portal have dramatically improved the way CPE is able to organize, track and access critical customer information, while providing customers with convenient, self-service options for managing payments.
Addressing collections inefficiency
Prior to its use of Esker, CPE's one-person credit department was managing the collections activity for 3,000 customer accounts without the aid of a true automated software system to assist in optimizing post-sale communications. This created a number of challenges, including:

Lack of time and resources to communicate with all past-due accounts
Reliance on part-time hires to assist in collections when necessary
No centralized location to store and access customer notes
Time wasted due to fielding invoice-related customer inquiries
"We needed a more sustainable and streamlined way of managing accounts with balances," said Staci Cima, CCE–credit manager at Crescent Parts & Equipment. "What drew us to Esker's TermSync product was its ease of use and installation. Going through software updates every few years was not something we wanted to deal with. It sounded too good not to try — and it's been everything we'd hoped it would be."
Benefits of automated collections
Following its implementation of Esker's Collections Management solution, CPE has seen a number of impressive benefits as a result, including:

Reducing the amount of accounts with overdue balances by nearly 38 percent
Saving staff time thanks to a reduction in "Can I get a copy?" calls from customers
Giving more attention to key accounts and new customers due to efficiency increases
Enhancing response times thanks to the centralization of customer notes
Increasing customer engagement via tools like automatic payment reminder emails, payer rating
updates, credit applications, auto-payment setup options and more
"Using Esker, it was amazing how fast past-due balances, skipped invoices and disputed invoices started getting cleaned up just by sending automated email reminders," said Cima. "In fact, one chronically poor payer actually turned into one of our best four-star customers. It's a big reason why I recommend Esker's TermSync product to everyone I talk to."
About Crescent Parts & Equipment
Crescent Parts & Equipment (CPE) is a leading Heating, Ventilation, Air Conditioning and Refrigeration (HVACR) wholesale distributor with 15 locations — eight in the greater St. Louis metropolitan area and another seven across the rest of Missouri and southern Illinois. Founded in 1944, CPE is a third- generation, family-owned company that is dedicated to delivering the best HVACR products and services to its customer in the industry.
About Esker
Esker is a worldwide leader in cloud-based document process automation software. Esker solutions, including the acquisition of the TermSync accounts receivable solution in 2015, help organizations of all sizes to improve efficiencies, accuracy, visibility and costs associated with business processes. Esker provides on-demand and on-premises software to automate accounts payable, order processing, accounts receivable, purchasing and more.
Founded in 1985, Esker operates in North America, Latin America, Europe and Asia Pacific with global headquarters in Lyon, France and U.S. headquarters in Madison, Wisconsin. In 2016, Esker generated 66 million euros in total sales revenue. For more information on Esker and its solutions, visit http://www.esker.com. Follow Esker on Twitter @EskerInc and join the conversation on the Esker blog at blog.esker.com.