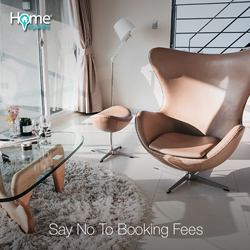 HomeEscape is the answer for owners that have been looking for an alternative to the expensive and restrictive online vacation rental sites.
Miami, FL (PRWEB) June 30, 2017
Despite the major changes affecting the vacation rental industry, specifically the rising fees forced on owners and travelers, and the lack of direct communication allowed between users on these platforms, HomeEscape has committed to providing a transparent vacation rental website that benefits owners by being the most economical and efficient marketing channel for their properties.
"HomeEscape is the answer for owners that have been looking for an alternative to the expensive and restrictive online vacation rental sites," says Avi Vaknin, CEO, and president of HomeEscape. "Over the past two years, we have invested in the best technology and support to accommodate the growing demand of users on our site."
With existing vacation rentals websites charging subscription fees, booking fees and service fees, many users experience great limitations when it comes to either booking travel or listing their vacation home rentals. Several owners have expressed frustration with having to pay subscription fees for property placement only to find that travelers are not booking their property because of expensive service fees.
This double payment has drastically reduced traffic to owner's properties, causing financial hardship. Unfortunately, many owners are hamstrung because the only way to maximize visibility of their listing is by subscribing to the "instant book" feature – where they will get a reservation, but will not be able to vet travelers or exercise control over their rental business.
By not charging users booking or service fees, HomeEscape decreases the financial burden of travelers seeking an affordable vacation – a key incentive and one of the primary reasons travelers seek vacation rentals in the first place. Additionally, both travelers and owners can benefit from direct communication on the site – HomeEscape does not limit or filter private conversations between guests and vacation rental owners, and will not do so in the future. Moreover, HomeEscape provides world-class customer support, offering both email and phone support for technical needs.
HomeEscape.com enhances the online travel experience with complete and organized information that includes photos, detailed property descriptions, pricing, booking information, and property analytics. Through HomeEscape's easy-to-use interface, owners and managers can communicate with interested travelers and automatically update property listings across the site, including adding or removing properties, or changing the description information.
"As travelers continue to realize the savings from booking on HomeEscape, more owners will benefit from full reservation calendars – a win-win for all," remarked Vaknin. "We want to give the power back to the owners and their vacation rental businesses. HomeEscape is here to revolutionize online travel."
About HomeEscape: Because of the fast growth of HomeEscape, travelers can seek the space, value, and amenities of several popular travel destinations. Travelers can explore popular accommodations, including: Panama City Beach Vacation Rentals, Destin Beach House Rentals, Pigeon Forge Cabins, and Maui Condo Rentals. With detailed property descriptions, photos and list of amenities and nearby attractions, HomeEscape makes it easy to find and compare vacation rentals all over the world.