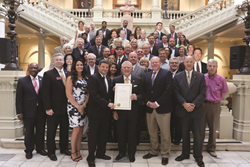 Studies show that the average consumer cannot name three things that are made in their state.
Atlanta, GA (PRWEB) June 30, 2017
Governor Nathan Deal will present the "Buy from GA" month proclamation to the members of the Georgia Manufacturing Alliance on July 17, 2017 at the State Capitol. This day will highlight Georgia manufacturers and raise awareness for products that are made in our state.
Studies show that the average consumer cannot name three things that are made in their state. The 'Buy from GA" proclamation will help bring awareness to the finished goods products that are manufactured in Georgia and the manufacturers that bring these products to market. Some of the more well-known brands that are produced in our state include: Beaulieu Carpets, Blue Bird Buses, Bridgestone Tires & Golf Balls, Bubba Burgers, Coke, Claxton Fruit Cakes, Clorox, Duracell Batteries, Fresh Market Salads, Frito-Lay, Gatorade, High Roads Ice Cream, HON Office Furniture, Hostess Snacks, Husqvarna Lawn Mowers, John Deere Tractors, KIA Sorento & Optima, Kellogg Snacks, Kings Hawaiian Rolls, Kleenex, Miller Beer, Okabashi Shoes, Primo Grills, Savannah Bee Honey, Serta Mattresses, Shaw Carpets, Solo Cups, Snyder Pretzels, Sunny Delight, Wrigley's Gum, Yamaha Jet Skis, and Zoom Fishing Baits.
"We are thankful to Governor Deal for the continued support of our initiative to emphasize the importance of manufacturing in our state," said Jason Moss, CEO of the Georgia Manufacturing Alliance. "Over 380,000 people are employed in the 10,000 manufacturing facilities in Georgia and we are excited by the continued growth in this sector. Thousands of jobs are being created as a direct result of educating consumers about the importance of buying Georgia made products."
About the Georgia Manufacturing Alliance:
The Georgia Manufacturing Alliance (GMA) is a membership-based industry organization founded in 2008 to support Georgia's manufacturing community. GMA provides monthly plant tours, educational sessions, tradeshows, and unique networking opportunities designed to help make profitable business connections for its members. The Georgia Manufacturing Directory, Georgia Manufacturing Summit, Georgia Manufacturing Calendar, and Georgia Manufacturing Job Board are additional resources produced by GMA. To learn more about the organization, membership, and upcoming events, please call 770-338-0051 or visit their website at http://www.GeorgiaManufacturingAlliance.com.