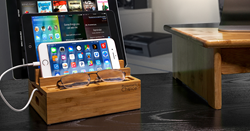 "We released the 5 Rack model with great success, and customer demand tells us the 3 Rack design will be equally as popular." - Perry Solomon, Prosumer's Choice President & Founder
Los Angeles, CA (PRWEB) July 05, 2017
Prosumer's Choice brand releases new Bamboo 3 Rack Tablet and Smartphone Charging Station for device organization as well as power management. Online shoppers may purchase the Bamboo 3 Rack Smartphone and Tablet Charging Station for a limited time for $29.99 on the Prosumer's Choice website by visiting https://prosume.rs/2charge3 or Amazon at https://prosume.rs/2AmazonChargingRack. The multi-device charging station is universally compatible with popular Smartphones and Tablets and works with power strips or USB chargers. The 3 rack model adds to the Prosumer's Choice line of eco-friendly Bamboo multi-device charging solutions.
The Bamboo 3 Rack Smartphone and Tablet charging station powers up to three Smartphones or tablets simultaneously. The slimline design takes up little space on a desk, kitchen counter, or nightstand and serves as an organizational tool for securely storing digital devices. The Bamboo charging station works with many Smartphone and Tablet models, including iPhones, Android phones, iPads, iPad minis, and Samsung Galaxy. There's also a pull-out storage space to keep USB cables or power strips hidden while the devices charge.
"Our new Bamboo 3 Rack Charging Station compliments our existing product line well," notes Perry Solomon, Prosumer's Choice President and Founder. "We released the 5 Rack model with great success, and customer demand tells us the 3 Rack design will be equally as popular."
Prosumer's Choice offers several Smartphone and Tablet charging solutions made with Bamboo. The new 3 Rack Charging Station represents a compact alternative to the existing 5 Rack designs making it the perfect choice for condo living, apartments, dorms, and home offices. All products in this line are made with eco-friendly Bamboo, which means they are organic and easy to clean. The natural finish makes these charging solutions ideal for any decor with an elegant appearance suitable for corporate offices.
About Prosumer's Choice
California-based and family-owned Prosumer's Choice designs, develops, and builds unique and convenient products for the home, outdoors, office, auto, and travel. Embracing eco-friendly and socially responsible initiatives is a key component of Prosumer's Choice business ethics, and Prosumer's Choice educates its supply-chain on the benefits of the Business Social Compliance Initiative (BSCI) Monitoring System. A significant amount of Prosumer's Choice's line of bamboo products are certified by the Forest Stewardship Council® (FSC®) that the material comes from responsibly-managed forests. For more information, please visit http://www.prosumerschoice.com or contact us toll free at 866-888-8776.