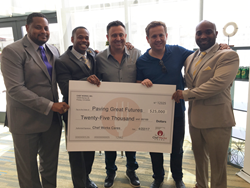 SAN DIEGO, CA (PRWEB) July 03, 2017
Chef Works Cares, the charitable initiative from global uniform designer and manufacturer Chef Works, is pleased to announce a $25,000 funding grant to San Diego-based community nonprofit, Paving Great Futures. This is the largest grant from Chef Works to date.
Dedicated to empowering the community through personal economic development, Paving Great Futures' programming emphasizes financial freedom through entrepreneurship training. Their Culinary, Hospitality, Administration, and Management Program (C.H.A.M.P.), offers business development, job training, and mentorship for at-risk individuals who are trying to improve their lives. In their newly outfitted commercial training kitchen, the 9-month program teaches not only basic kitchen skills and food handling techniques but also managerial and professional development skills, giving mentees the tools to confidentially enter the workforce and the limitless possibility to start their own ventures. With a 100% graduation rate during their first year, C.H.A.M.P. is poised to become a guiding force for those who may have otherwise felt without a way to economically advance themselves. C.H.A.M.P. paves the way for unlimited financial stability.
"Our intent is to create opportunity and financial sustainability while stimulating social change through community involvement," says Armand King, Founder of Paving Great Futures. "As an executive chef and long-time member of the foodservice industry, I have been a fan of Chef Works for many years. This newfound partnership is not only an honor, it's a dream come true. This gift helps us advance our mission to positively change even more lives."
With their newly awarded $25,000 grant from Chef Works, Paving Great Futures will jumpstart their mobile operation and catering program, an extension of the established C.H.A.M.P. program.
"Paving Great Futures is a perfect example of an organization that truly provides a working solution to the root causes surrounding economic instability and the invisible barriers to financial attainment felt by our fellow community members. By providing this contribution to their mission, Chef Works positions ourselves as a willing partner committed to enacting grassroots, on-the-ground change with a culinary emphasis. At the end of the day, our partnership benefits the overall hospitality industry," Says Neil Gross, CEO of Chef Works, "We hope this is only the beginning for Paving Great Futures, and cannot wait to cheer their successes throughout our partnership."
Fueled by the Gross Family's passion for supporting worthy causes, Chef Works Cares was established in 2014. Chef Works Cares focuses on three strategic arenas to promote their philanthropic endeavors: the elimination of children living in poverty, children and adults living with intellectual and developmental disabilities, and protecting and improving the environment. Led by the charitable giving committee comprised of Chef Works employees, Chef Works Cares has donated to such causes as Kitchens for Good, Special Olympics, Living Coast Discovery Center, and the ALS Association. Grant applications are accepted between September 1st and December 1st, and can be completed online via the Chef Works website.
###
ABOUT CHEF WORKS, INC.
Established in 1964 when Joseph Gross founded a small uniform company in South Africa, Chef Works has evolved into a global force as a solutions based company, supplying culinary apparel to over seventy countries. Chef Works dresses back of house and front of house staffs for a diverse range of customers including, international hotel chains, award-winning restaurants and bars, culinary schools, food service companies, laundries, and assisted living facilities. Headquartered in San Diego, California, the family-operated corporation has helped pave the way for the current culinary uniform movement by working directly with chefs and culinary personnel to develop innovative, fashion-forward garments. For more information, visit chefworks.com, follow us on Facebook, Instagram, and Twitter.
ABOUT PAVING GREAT FUTURES
Paving Great Futures is a nonprofit organization dedicated to empowering the community through personal economic development and provides individuals with the necessary tools for financial freedom through entrepreneurship training, business development, and job training.